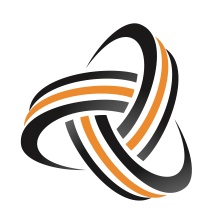 Dimitry,
According to Time, the person of the year is selected because they have been influential and pushed the envelope in some way. For me, you are my "Person of My Year"!  Because of your highly developed PT skills, I am back to hiking, working out, and I am finally pain-free, something that a year ago I did not believe would ever be possible.  i also now understand the importance of strength, balance, and proper standing and sitting posture.   More importantly, I understand how easy it all is once I understood everything.  I have also now learned how to fix issues as they inevitably come up as I'm going through life .  You certainly are the most influential person to me in 2013.  As for the pushing the envelope, well, let's just say that would be the deep tissue work 🙂  When I ask, "is this supposed to hurt?", I now know to trust you as it always produces a positive outcome.
Additionally, you recommended excellent resources in a web developer and personal trainer. You do it all with a positive attitude and approach that makes you a pleasure to work with.  Thank you!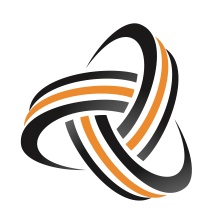 Turned 50 this year and I decided to address some nagging aches and pains in my life: pain in both shoulders, minor lower back aches and pains, and neck stiffness. After ten minutes with Dimitry, I came to learn that all the issues were related. Dimitry explained to me that pain in the shoulder is dealt with by addressing fundamental body issues: posture, muscle tone, core strength, how I walk, how I sit, how I stand. After working with Dimitry for a single session, I became acutely aware of my body, my posture, and my gait. To my horror, I began to realize how much I hunch, how poor my posture is, how I lean forward and hunch my shoulders when I sit at my desk at work. Dimitry explained to me that we would re-train everything. After a three sessions, I feel renewed. My shoulders are much looser. The exercises that Dimitry has given me — in combination with his physical manipulation of the capsules in my shoulder — have begun to change my life. I feel so much possibility. So much freedom. Fix it once. Fix it right!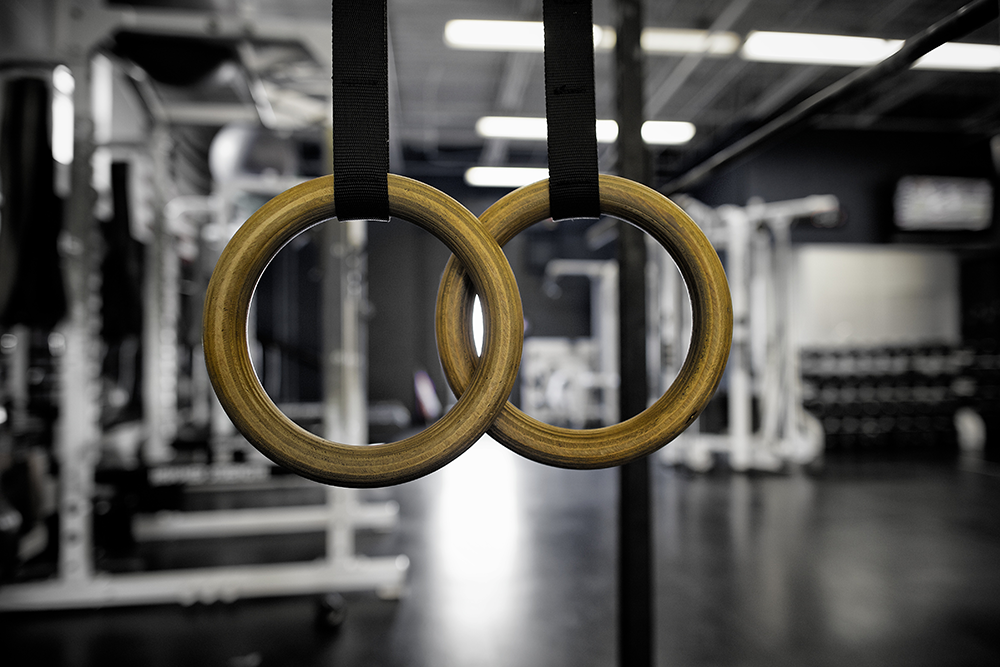 Very talented, knowledgeable, professional physical therapists who are passionate about helping their clients.  They do a great job communicating with the client in a manner the client can actually understand!  Follow up, attention to detail, and a personalized approach is top notch across the board.  Consider yourself lucky to have found them!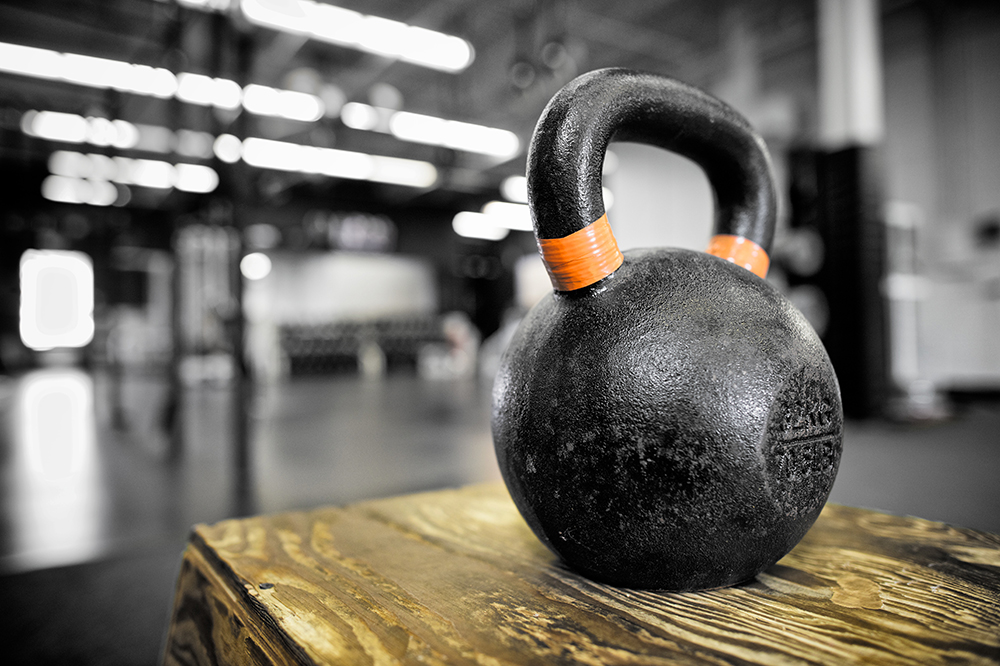 Dr. Dimitry Polyakov changed my life by going above and beyond to give me the ability to become pain free! From the initial phone consultation, I immediately realized "Total Physical Therapy" are the ultimate PT professionals. Dimitry transformed my chronic condition, restoring me back to normal and allowing me to fully work out again.
I feel incredibly fortunate to work with Dimitry and was amazed at how quickly I experienced improvement. I believe his total approach to healing the body is unmatched in the area, as I was referred to Dimitry after working with several therapists and experienced only limited success. During each hourly session, Dimitry works one-on-one and provides undivided attention. He listens attentively at the beginning of each session to identify changing issues and responds accordingly with the appropriate treatment. Not only does he skillfully and thoughtfully work on the original injury, he takes a total approach to the body by helping to heal multiple issues as they arise. This approach is particularly advantageous to patients and a major benefit from working with the therapists at Total Physical Therapy.
Additi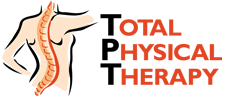 onally, he is an educator and teaches how to improve mobility, balance, and strength for a healthy body. He goes the extra mile by transferring his knowledge to his patients by patiently explaining how to deal with issues when they occur, thereby empowering people to understand how to deal with injuries long after the physical therapy sessions have ended. Furthermore, Dimitry extends the sessions in unique and helpful ways including taking video clips and pictures of the exercise that will help heal. He promptly follows up by emailing these clips so the patient can see first hand how to correctly perform the exercise at home. This PT/patient connection adds to the speed and quality of the patient's overall progress.
Dimitry is highly skilled and intelligent. Additionally, he is pleasure to work with! With the highest endorsement, I recommend Dimitry and his team at "Total Physical Therapy".
Savannah from Bernardsville, NJ

As I've approached age 70, I've had to deal with some of the inevitable issues of an aging body, including old problems that hadn't been properly addressed in the first place. Dimitry is incredible as both a diagnostician and a teacher/healer. In your first hour of his undivided attention, you will probably learn more about your body than you've learned from any other health care professional in your life. Everyone I've referred to Dimitry has been very happy they saw him. He's as good as it gets!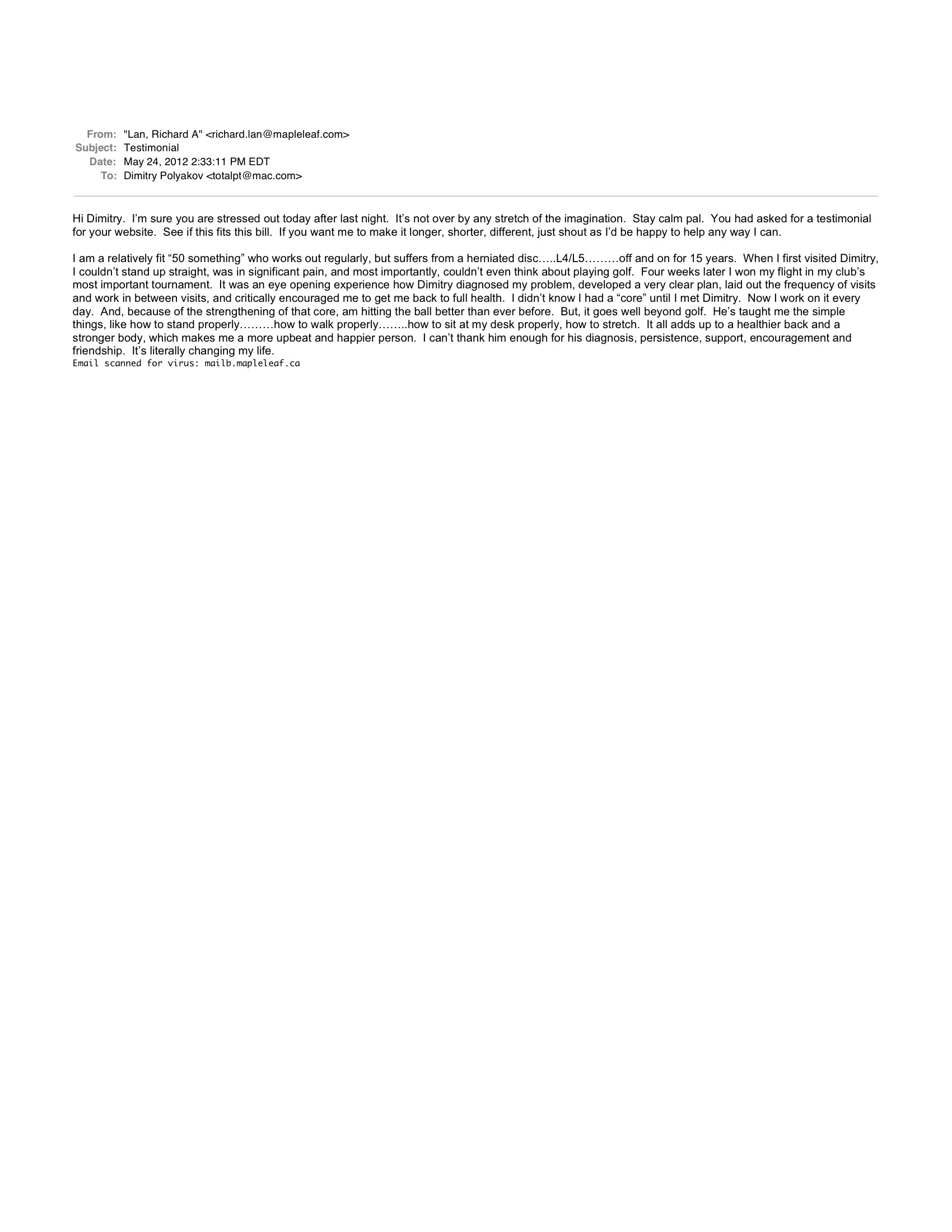 May 24, 2012
I am a relatively fit "50 something" who works out regularly, but suffers from a herniated disc…..L4/L5………off and on for 15 years.  When I first visited Dimitry, I couldn't stand up straight, was in significant pain, and most importantly, couldn't even think about playing golf.  Four weeks later I won my flight in my club's most important tournament.
It was an eye opening experience how Dimitry diagnosed my problem, developed a very clear plan, laid out the frequency of visits and work in between visits, and critically encouraged me to get me back to full health.  I didn't know I had a "core" until I met Dimitry.  Now I work on it every day.  And, because of the strengthening of that core, am hitting the ball better than ever before.
But, it goes well beyond golf.  He's taught me the simple things, like how to stand properly………how to walk properly……..how to sit at my desk properly, how to stretch.  It all adds up to a healthier back and a stronger body, which makes me a more upbeat and happier person.  I can't thank him enough for his diagnosis, persistence, support, encouragement and friendship.  It's literally changing my life.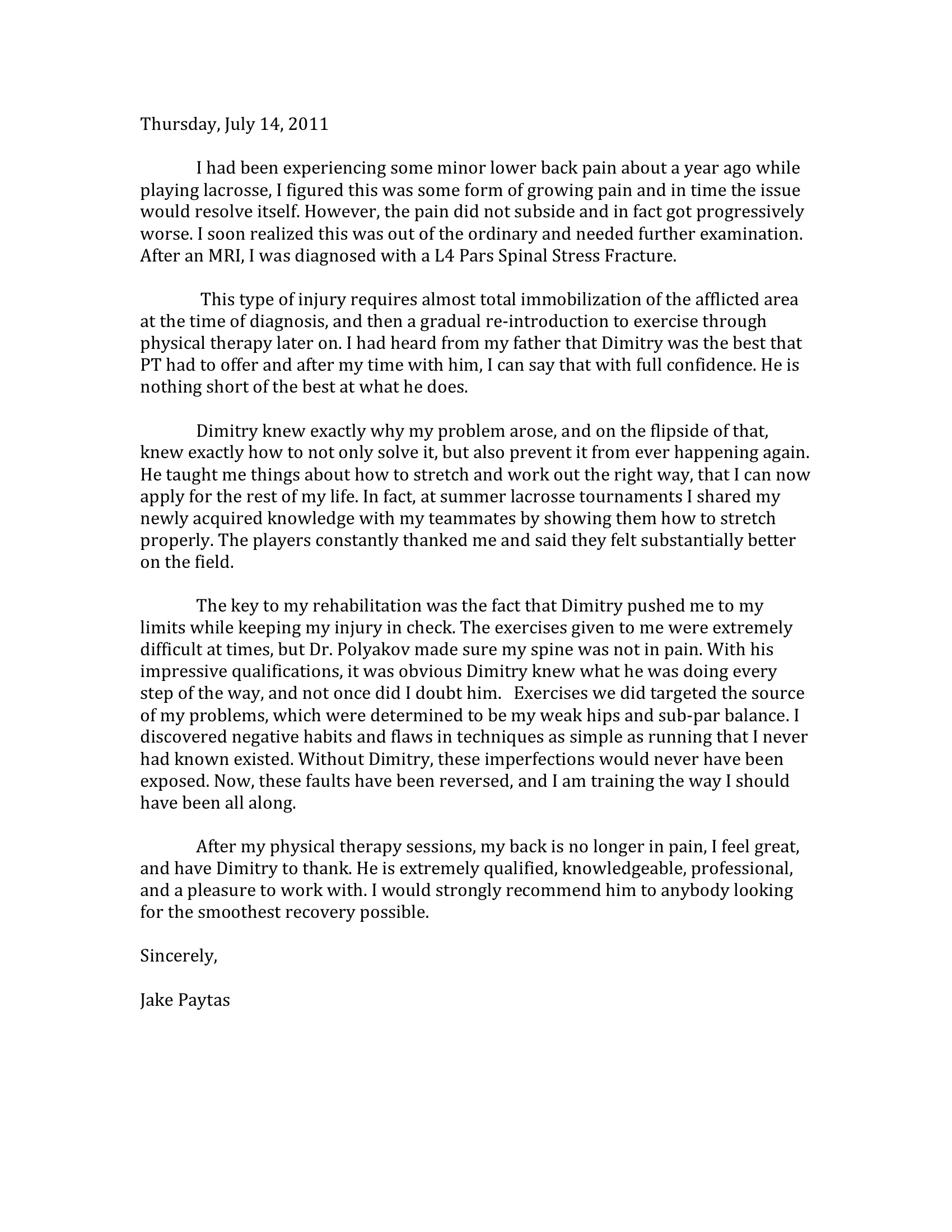 Thursday, July 14, 2011
I had been experiencing some minor lower back pain about a year ago while playing lacrosse, I figured this was some form of growing pain and in time the issue would resolve itself. However, the pain did not subside and in fact got progressively worse. I soon realized this was out of the ordinary and needed further examination. After an MRI, I was diagnosed with a L4 Pars Spinal Stress Fracture.
This type of injury requires almost total immobilization of the afflicted area at the time of diagnosis, and then a gradual re-introduction to exercise through physical therapy later on. I had heard from my father that Dimitry was the best that PT had to offer and after my time with him, I can say that with full confidence. He is nothing short of the best at what he does
Dimitry knew exactly why my problem arose, and on the flipside of that, knew exactly how to not only solve it, but also prevent it from ever happening again. He taught me things about how to stretch and work out the right way, that I can now apply for the rest of my life. In fact, at summer lacrosse tournaments I shared my newly acquired knowledge with my teammates by showing them how to stretch properly. The players constantly thanked me and said they felt substantially better on the field.
The key to my rehabilitation was the fact that Dimitry pushed me to my limits while keeping my injury in check. The exercises given to me were extremely difficult at times, but Dr. Polyakov made sure my spine was not in pain. With his impressive qualifications, it was obvious Dimitry knew what he was doing every step of the way, and not once did I doubt him.   Exercises we did targeted the source of my problems, which were determined to be my weak hips and sub-par balance. I discovered negative habits and flaws in techniques as simple as running that I never had known existed. Without Dimitry, these imperfections would never have been exposed. Now, these faults have been reversed, and I am training the way I should have been all along.
After my physical therapy sessions, my back is no longer in pain, I feel great, and have Dimitry to thank. He is extremely qualified, knowledgeable, professional, and a pleasure to work with. I would strongly recommend him to anybody looking for the smoothest recovery possible.
Sincerely,
Jake Paytas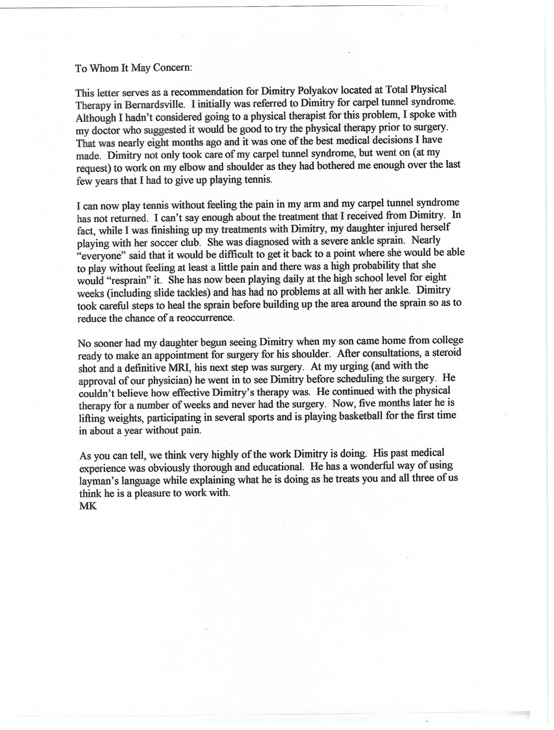 To Whom It May Concern:
This letter serves as a recommendation for Dimitry Polyakov located at Total Physical Therapy in Bernardsville. I initially was referred to Dimitry for carpal tunnel syndrome. Although I hadn't considered going to a physical therapist for this problem, I spoke with my doctor who suggested it would be good to try the physical therapy prior to surgery. That was nearly eight months ago and it was one of the best medical decisions I have made. Dimitry not only took care of my carpal tunnel syndrome, but went on (at my request) to work on my elbow and shoulder as they had bothered me enough over the last few years that I had to give up tennis.
I can now play tennis without feeling the pain in my arm and my carpal tunnel syndrome has not returned. I can't say enough about the treatment that I received from Dimitry. In fact, while I was finishing up my treatments with Dimitry, my daughter injured herself playing with her soccer club. She was diagnosed with a severe ankle sprain. Nearly "everyone" said that it would be difficult to get it back to a point where she would be able to play without feeling at least a little pain and there was a high probability that she would "resprain" it. She has now been playing daily at the high school level for eight weeks (including slide tackles) and has had no problems at all with her ankle. Dimitry took careful steps to heal the sprain before building up the area around the sprain so as to reduce the chance of reoccurrence.
No sooner had my daughter begun seeing Dimitry when my son came home from college ready to make an appointment for surgery for his shoulder. After consultations, a steroid shot and a definitive MRI, his next step was surgery. At my urging (and with the approval of our physician) he went in to see Dimitry before scheduling the surgery. He couldn't believe how effective Dimitry's therapy was. He continued with the physical therapy for a number of weeks and never had the surgery. Now, five months later he is lifting weights, participating in several sports, and is playing basketball for the first time in about a year without pain.