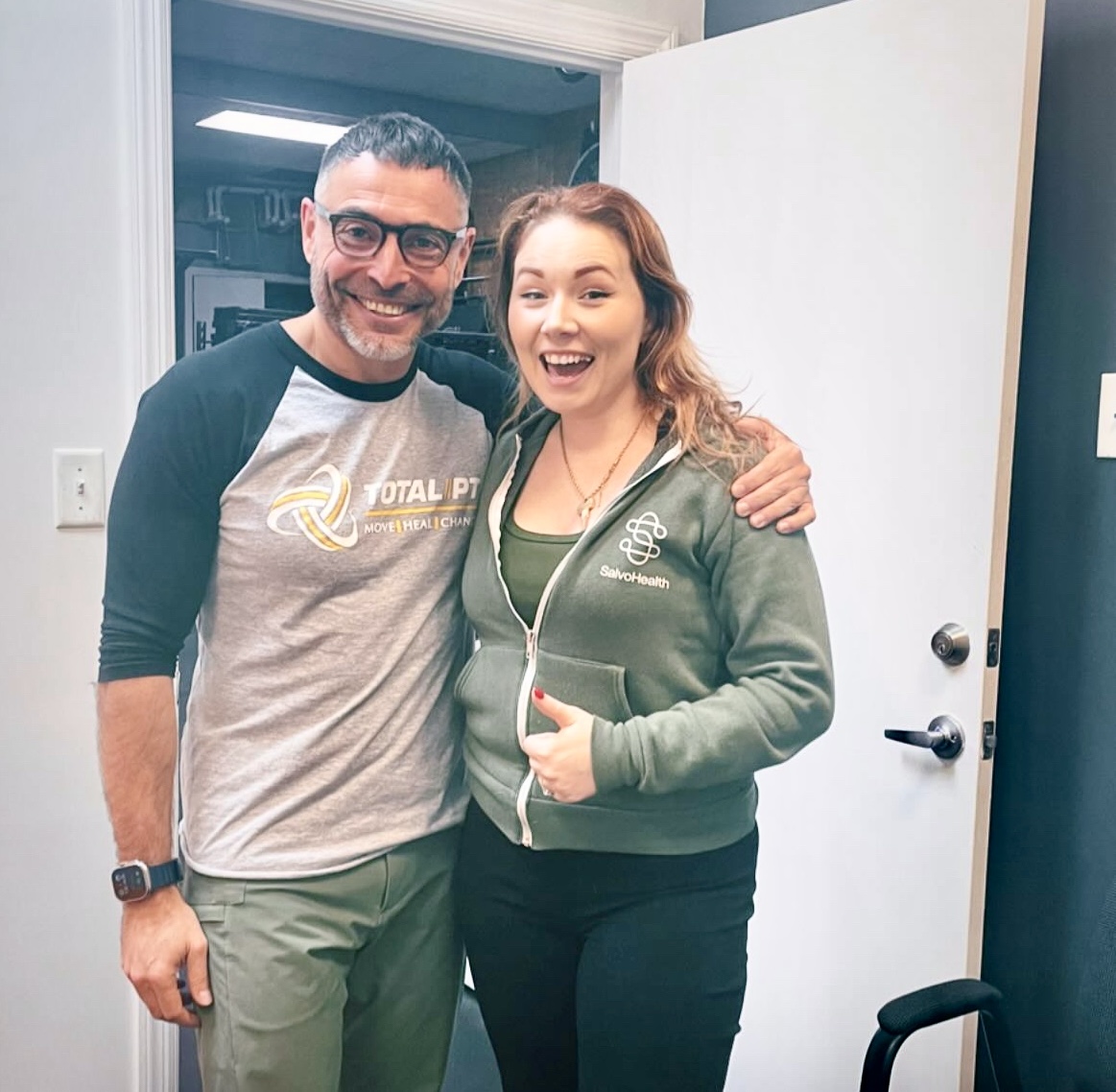 Dimitry helped me regain full movement of my shoulder and explained it wasn't an injury in my shoulder but actually a neck strain issue. I came in a sling and left without it!

I cannot recommend TPT enough! Dimitry is not only extremely talented, but also empathetic and kind. He's excellent and breaking down complex concepts into easily-digestible bits of information. You will leave his office feeling 10x better than you did when you entered! If you've been suffering with pain and struggling to find an answer, look no further.
Really appreciated the fact that he was able to fit me into his schedule quickly as I am heading to Italy in a few days and couldn't wait.

I started to see Dimitry a number of months ago. I participated in contact and high-impact sports for many years and had been experiencing chronic pain, particularly in my hip and neck on opposite sides. I have had three cervical surgeries and am fused C4-T1.
He quickly determined that the two pain points were related and set me up with a series of exercises that I do nearly every day. They involve learning to breathe better/more efficiently and repositioning to improve mechanics. It is a very different form of PT than I have ever done before.
I saw results very quickly and pain relief has been significant. I am now able to exercise much more vigorously that I was able to before I started seeing Dimitry and importantly am no longer taking anti-inflammatories which was a primary goal. I feel like I am about 70% of the way to full pain relief which I did not think was possible before I started seeing Dimitry.
'I am most grateful to him! This PT program has changed my life for the better! We will stay at it together until we get to the finish line which is now in sight.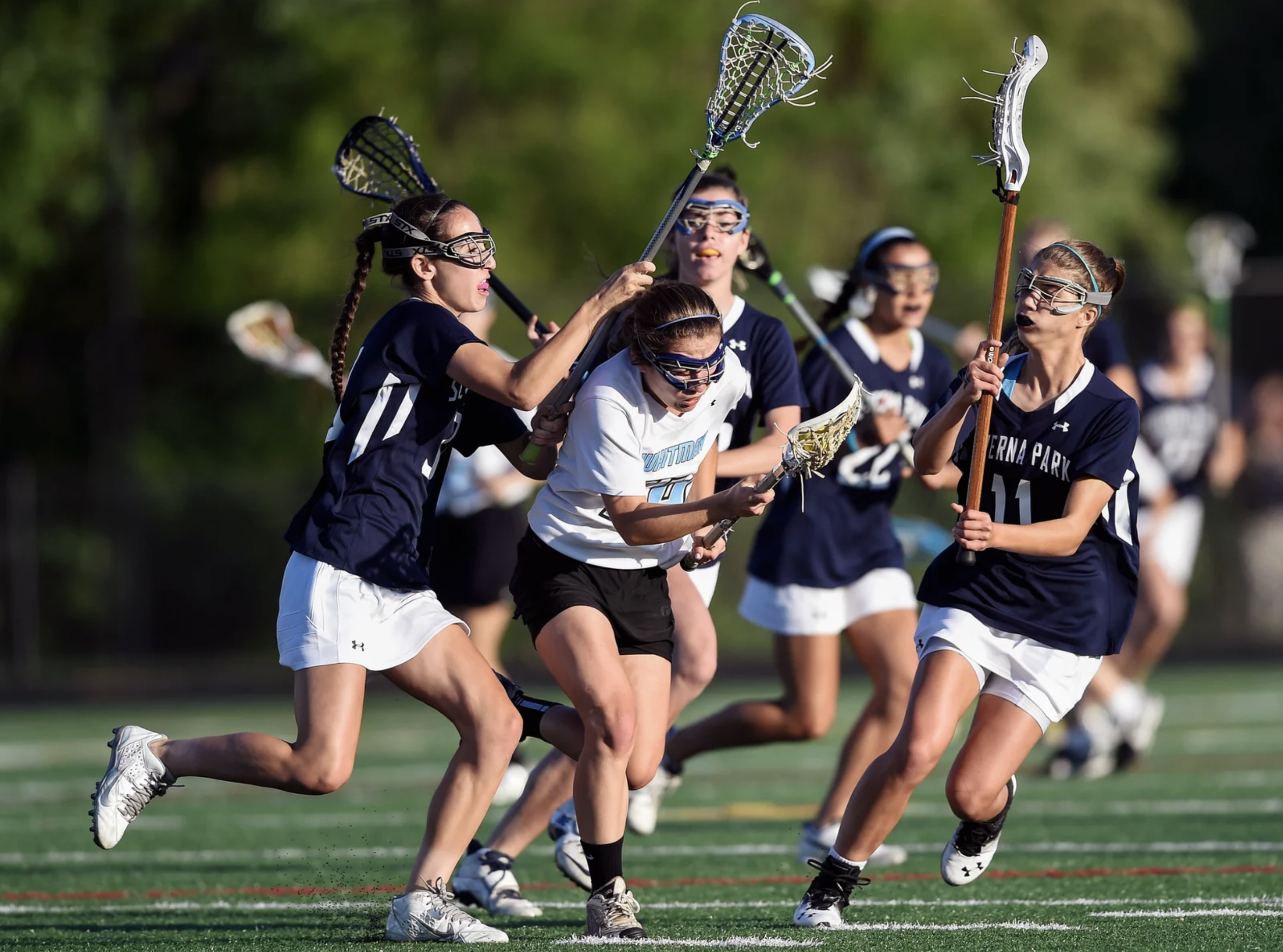 Wow! Wow!! Dimitry worked wonders with Gracie and her L5 stress fracture. Not only did he rehab so she could get back to the lacrosse field quickly and safely, he also identified her imbalances that led to her injury! It was truly amazing what he did for our daughter. Very very grateful he was recommended to us.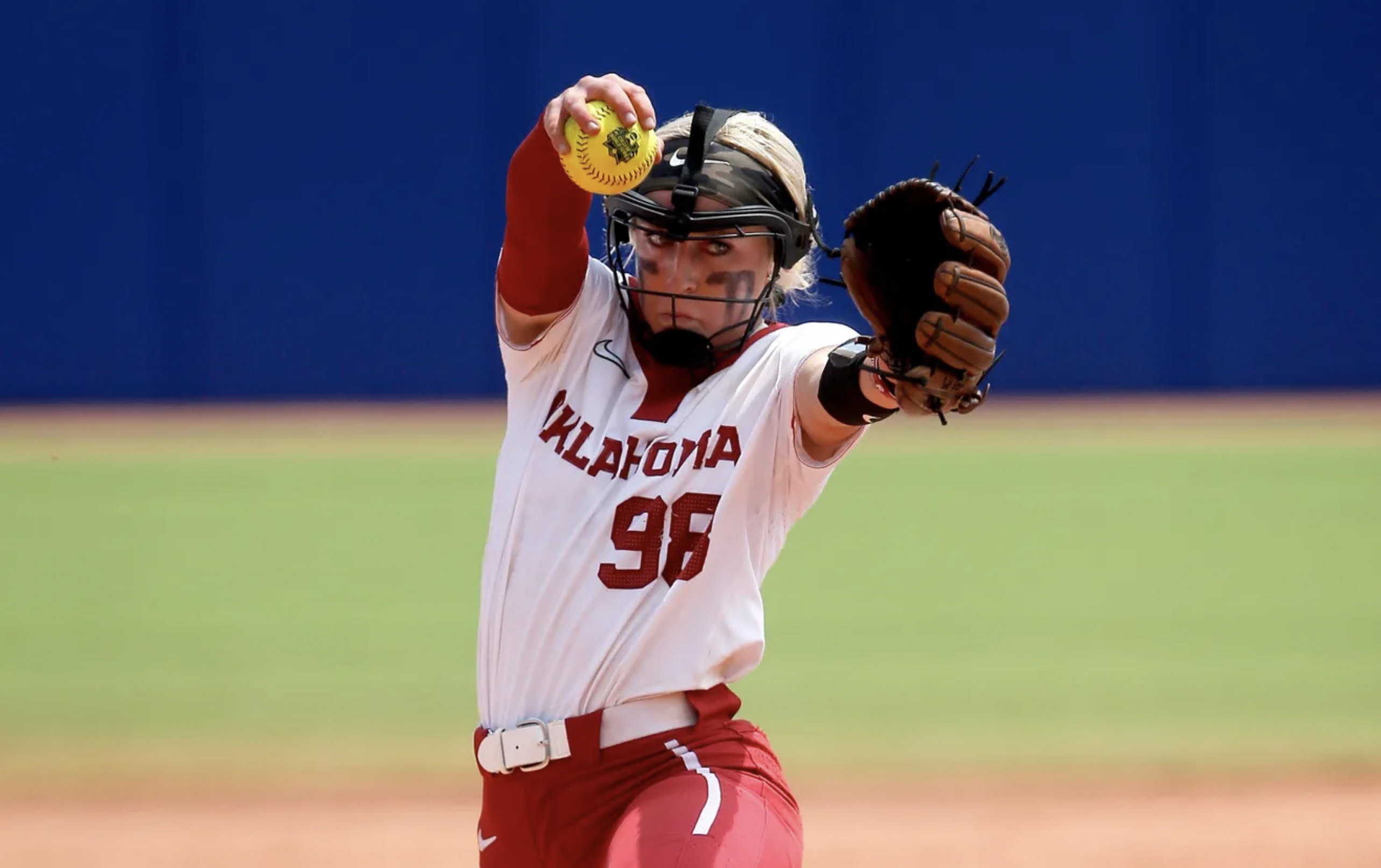 Dimitry is outstanding! If you are a serious athlete who wants to get back on the field quicker and stronger, he is your guy. He has an incredible grasp of the way the body moves, the body asymmetry our year-round sports cause, and how to help the body strengthen back into place. He is hands on, shares his knowledge in an accessible way, and is generous with his time. My daughter is back playing club softball and we owe so much to Dimitri. Highly, highly recommend.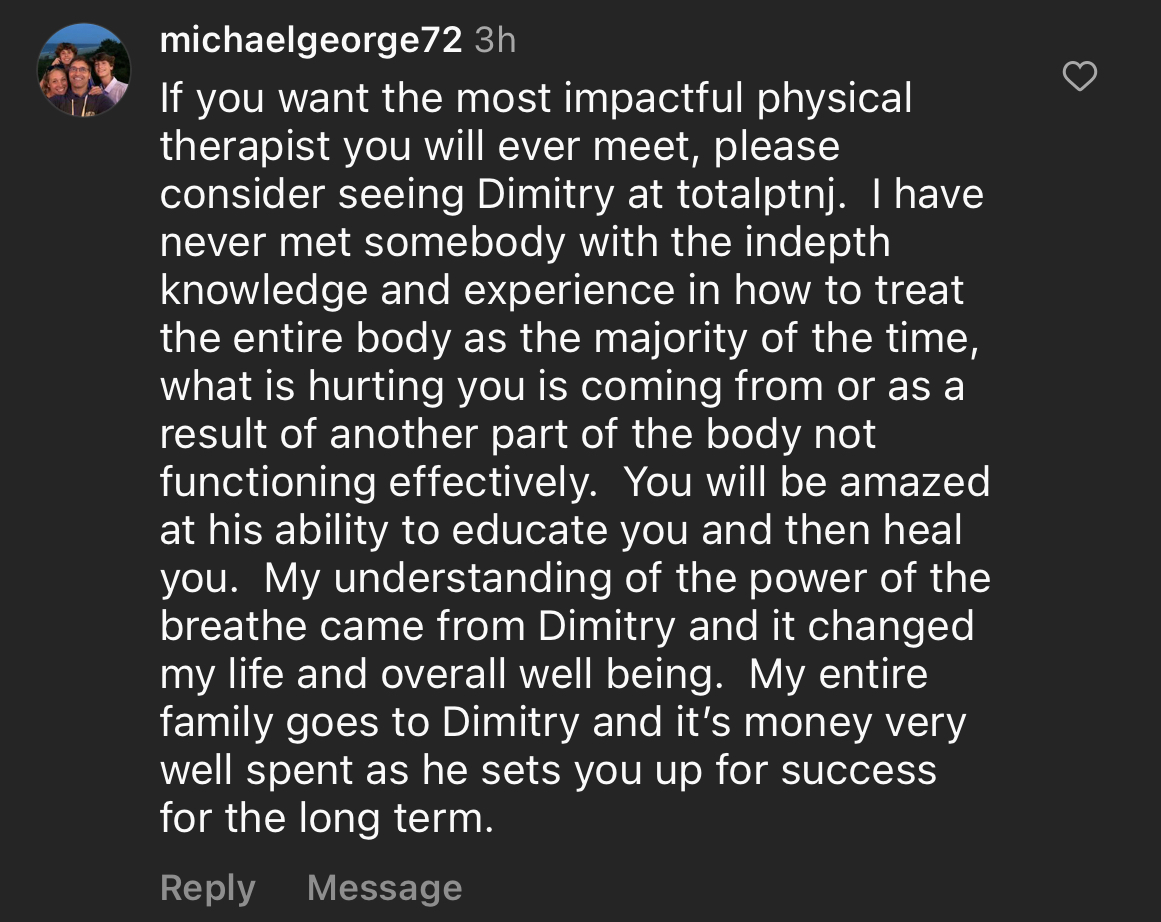 If you want the most impactful physical therapist you will ever meet, please consider seeing Dimitry at Total Physical Therapy. I have never met somebody with the in-depth knowledge and experience in how to treat the entire body as the majority of the time, what is hurting you is coming from or as a result of another part of the body not functioning effectively. You will be amazed at his ability to educate you and then heal you.
My understanding of the power of the breath came from Dimitry and it changed my life and overall well being. My entire family goes to Dimitry and it's money very well spent as he sets you up for success for the long term.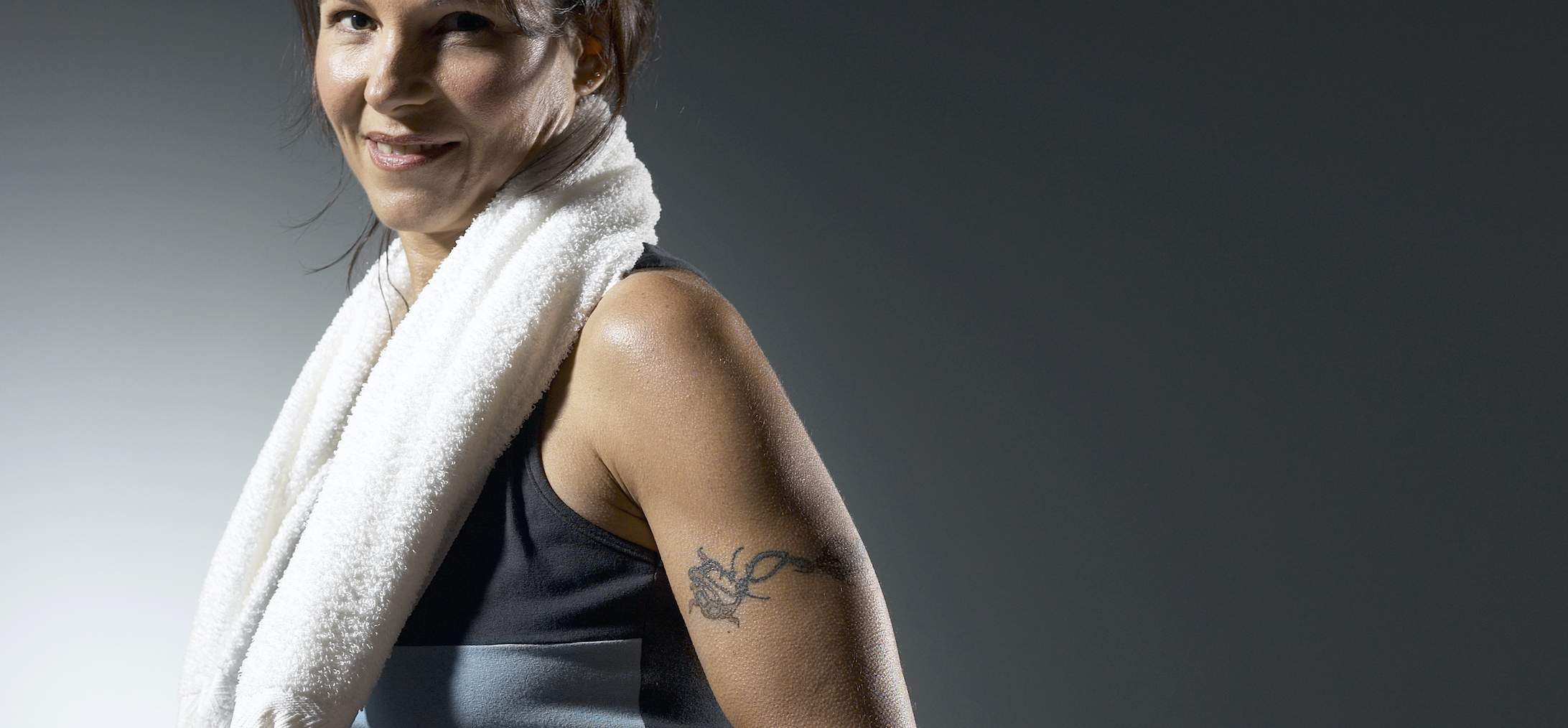 If I could give 10 (out of 5) stars for Dimitry I would. If you are someone who is struggling with pain and have been through years of prescribed PT (that doesn't help), have limited or completely removed the exercises or sports from your daily life that you once enjoyed (due to pain), or have been on the hunt for a FIX to your pain issues, Dimitry at Total PT is your only answer. Dimitry has helped me overcome my back pain, which impacted my lifestyle for 5 years before working with him. He has gotten me back to being pain free and back to doing exercises and movements I never thought I'd be able to do. I refer Dimitry at every opportunity I can. Yes, he's expensive, but you get what you pay for and there is no price to your health. Thank you, D!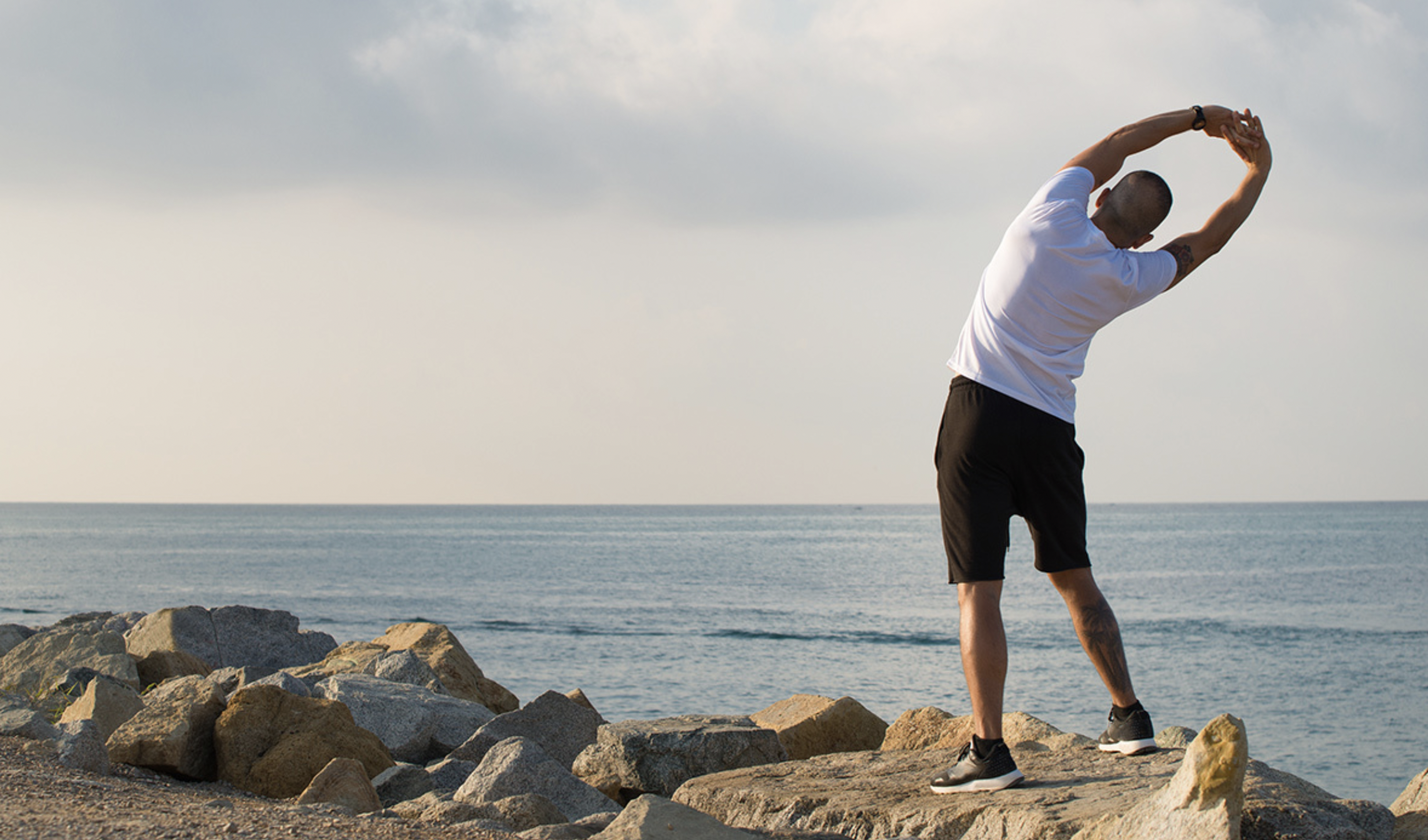 Dr. Dimitry Polyakov quickly assessed my herniated disc issues, including a major spinal shift, and prescribed a sampling of exercises from multiple philosophies (PRI, McKenzie, DNS & another i don't remember, but worked the best!). He is the MMA master of PT philosophies, fully versed in all techniques that are effective, and it was clear to me he sets aside time to keep up with newer philosophies as they become proven.
He was able to get me to fully recover in about 6-7 sessions over the course of about 6 weeks, which was remarkable. He does a great job video-recording the exercises and utilizing the cloud to allow access during the week so you can do the exercises between sessions. Dimitry is a passionate coach, and has some elite athletes as clientele. While he is not the least expensive PT per session, if you value your time, I argue he will get you results in much fewer sessions compared to standard PT centers. So long as you are disciplined and do your homework between sessions, overall cost of recovery probably the same. Highly recommend Dimitry!
The pelvis is involved in nearly everything we do from basic bodily functions to elite athletic endeavors. Situated at the base of the spine, the pelvis connects the upper body and lower body and it also serves as the foundation of our core while supporting our internal organs. With so many forces acting on this area, the muscles and joints in and around the pelvis are susceptible to imbalance which in turn can impact muscles and joints throughout the body.
While typically thought of as a condition that only affects pregnant and post partum females, problems with the pelvis can affect anyone at any age and stage of life. At Total Physical Therapy we address pelvis mechanics, pelvic floor function, and how the pelvis interacts with the core, lower, and upper extremities.
Through individual assessment and treatments, we work with our clients to improve alignment, function, and strength of the joints and muscles of the pelvis. At Total Physical therapy we work with the pelvis as an integrated part of the whole to help treat pelvic floor dysfunction and leaking, low back and sacroiliac joint pain, hip impingement, nerve impingement like sciatica and pudendal nerve entrapment, symphysis pubis dysfunction, and general rehabilitation during pregnancy and postpartum—no matter how long it has been since childbirth or what kind of delivery you had!
Everyone has a pelvis. Contact us today to set up a consult and discuss how you could benefit from improved pelvic health.
Lauren Beasley Shanaphy working with her client Scott. Individualized attention to detail. Complete focus on treating the cause of pain. Customized post-operative physical therapy treatment sessions. This is NOT your traditional physical therapy practice. Education, prevention and time spent with the client is our way of exceeding expectations and providing unmatched results in a fraction of the time it takes traditional practices to accomplish the most minimal gains.
When the standard is just not meeting your expectations, contact us for a free consultation and find out what physical therapy can truly accomplish.
Total Physical Therapy and Excel Fitness Center have been partners for over 15 years, serving the Bernardsville community and the neighboring towns of Basking Ridge, Mendham, Far Hills, Bedminster and Harding. The natural coupling of premier concierge one-on-one physical therapy with tailored personal training has had nothing but positive influences on the community.
Having the ability to share client information between physical therapy and personal training has had the amazing capacity to have two disciplines working together for a common goal. To get the client to feel better, move better, be stronger, have better balance and to have less pain.