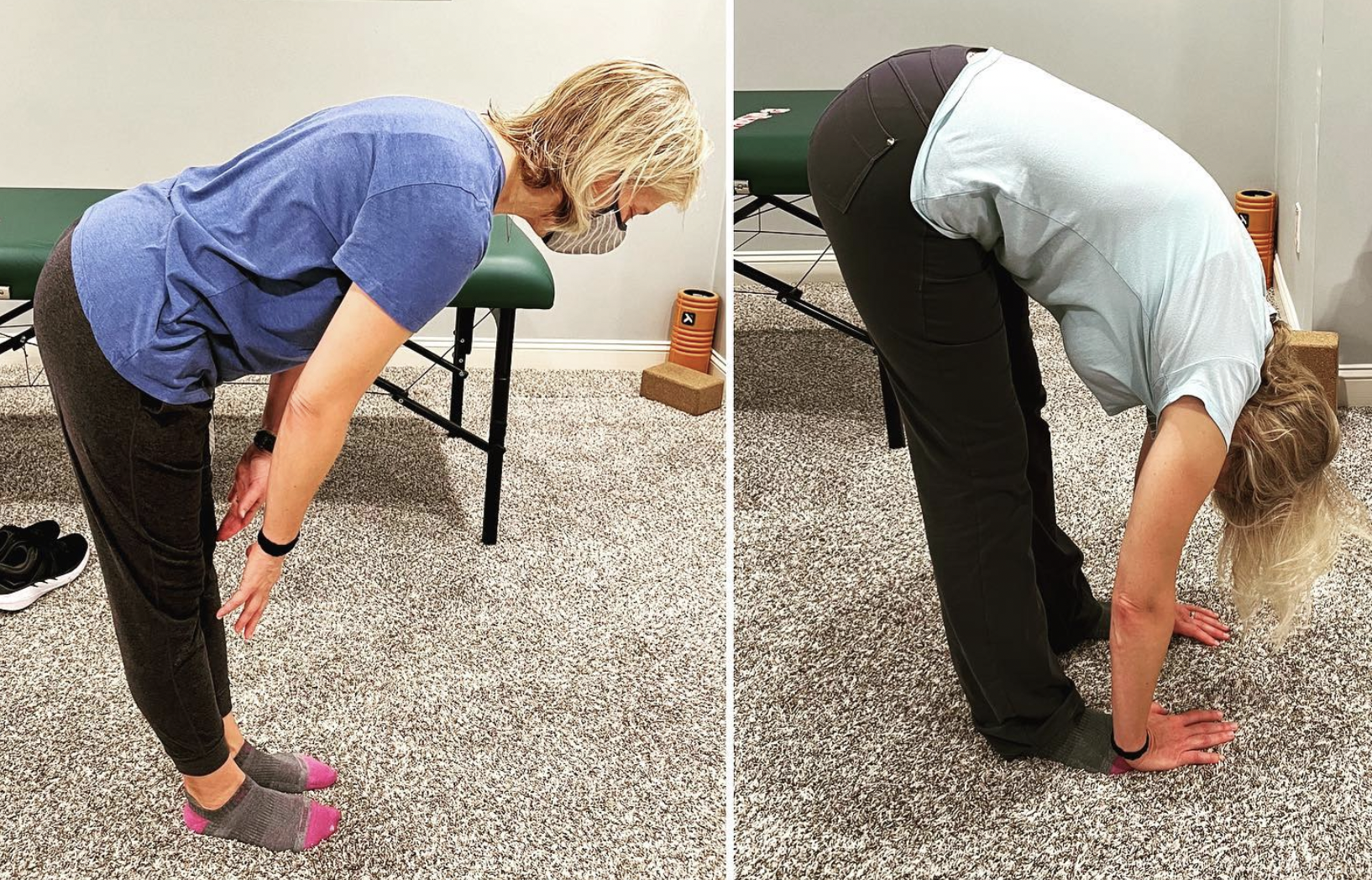 L pic Monday – R pic Friday
–
Tuesday, Wed, Thursday patient was given a new strategy to try at home in engaging her diaphragm during inhalation.
–
Movements were given as homework that allowed for safe bending at the spine/lower back rather than just bending at the hips.
–
Teaching her how to posteriorly rotate her pelvis and inhale and fill her thorax properly without using her neck muscles to assist in inhalation was game changer for her lower back pain!
–
If your nervous system doesn't feel safe to move – it will NOT let you move & will put on the brakes.
–
She said her hamstrings always felt 'tight.'
–
Don't think so! #totalptnj
If you find yourself navigating home workouts and exercises on your own, remember there are always variations and modifications that will help YOU get the most out of the movements.
Here are some different ways to perform the dead bug compiled into one video, sped up.
Scroll down to see the individual variations at regular speed and read on to see reasons WHY you should modify!
#1 Regular Style, Opposite Arm/Opposite Leg
#2 Short Lever, keeping the knees bent
#3 Reach with weights
#4 Reach with band
#5 Wall Push
#6 Wall Pull
Why should you vary this movement?
Loss of position (back arching, pelvis moving)

Pain during motion

Abdominal strain (especially during pregnancy, postpartum or with diastasis recti)

Coning/doming (bulging of your abdominals)
Which version is best?
The one you feel the most control during

The one you feel the abdominals engage the most during

The one you are most successful during

The one that challenges you the most without any negative events
During this current COVID-19 outbreak that we are all going through – we now all know that the primary problem with this form of coronavirus is it's impact on the respiratory system.
One of the main differences between the symptoms of COVID-19 and the flu or other types of viruses is it's ability to create shortness of breath as a primary driver for hospitalization. Simply put – it makes it more difficult for you to breathe.
We decided to put this little video together to show you how we can breathe into the back of our thorax/ribcage and through the backs of our lungs – a region that is highly underutilized when we breathe normally.
When we are stressed we breathe primarily through the front/top of our ribs and chest and also use excessive anterior neck muscles to raise the chest. This is called apical breathing. What that does is reduce your ability to inhale and fill the back of your ribcage and/or the back portion of your lungs. This tissue becomes rigid over time and starts to limit your capacity to expand through the back of your thorax. Take a look and please reach out with any questions. #movehealchange
The pelvis is involved in nearly everything we do from basic bodily functions to elite athletic endeavors. Situated at the base of the spine, the pelvis connects the upper body and lower body and it also serves as the foundation of our core while supporting our internal organs. With so many forces acting on this area, the muscles and joints in and around the pelvis are susceptible to imbalance which in turn can impact muscles and joints throughout the body.
While typically thought of as a condition that only affects pregnant and post partum females, problems with the pelvis can affect anyone at any age and stage of life. At Total Physical Therapy we address pelvis mechanics, pelvic floor function, and how the pelvis interacts with the core, lower, and upper extremities.
Through individual assessment and treatments, we work with our clients to improve alignment, function, and strength of the joints and muscles of the pelvis. At Total Physical therapy we work with the pelvis as an integrated part of the whole to help treat pelvic floor dysfunction and leaking, low back and sacroiliac joint pain, hip impingement, nerve impingement like sciatica and pudendal nerve entrapment, symphysis pubis dysfunction, and general rehabilitation during pregnancy and postpartum—no matter how long it has been since childbirth or what kind of delivery you had!
Everyone has a pelvis. Contact us today to set up a consult and discuss how you could benefit from improved pelvic health.
Lauren Beasley Shanaphy working with her client Scott. Individualized attention to detail. Complete focus on treating the cause of pain. Customized post-operative physical therapy treatment sessions. This is NOT your traditional physical therapy practice. Education, prevention and time spent with the client is our way of exceeding expectations and providing unmatched results in a fraction of the time it takes traditional practices to accomplish the most minimal gains.
When the standard is just not meeting your expectations, contact us for a free consultation and find out what physical therapy can truly accomplish.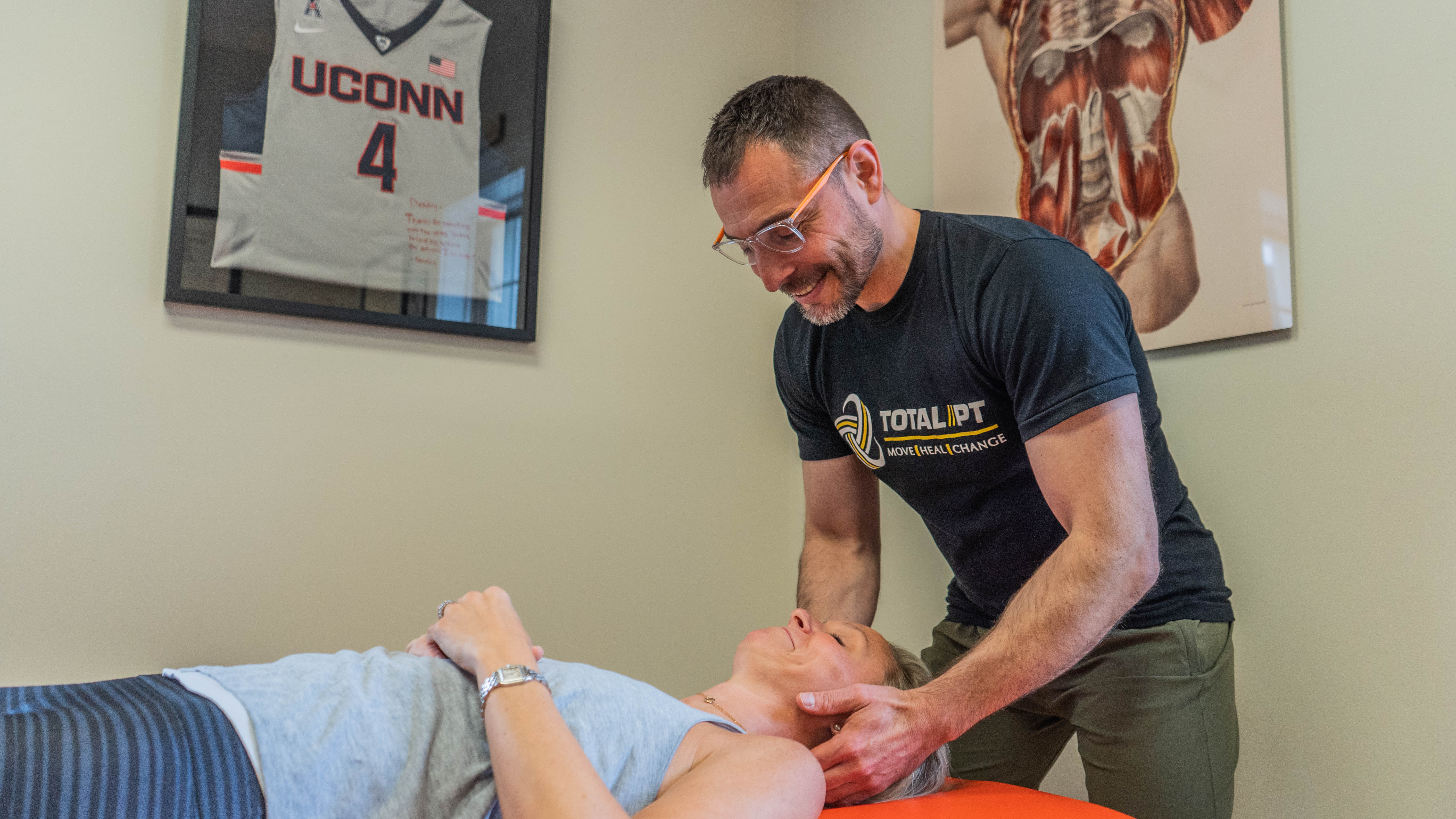 I could not recommend Dimitry more highly. After a year working with my chiropractor, trying to get to a point where I could function somewhat normally with constantly painful discs in my neck, I finally gave in and went to a spinal surgeon. I was in constant pain, and unable to enjoy any of the physical activities that I loved.
Lucky for me, the surgeon sent me to Dimirty first, before trying surgery. Dimitry was able to accomplish in one month what my chiropractor could not do in a year… and I never needed the surgery! I am playing tennis now and living a normal, pain-free life! I had to put in the work and do my exercises as instructed, but it was so worth it! Thank you, Dimitry, for giving me my life back!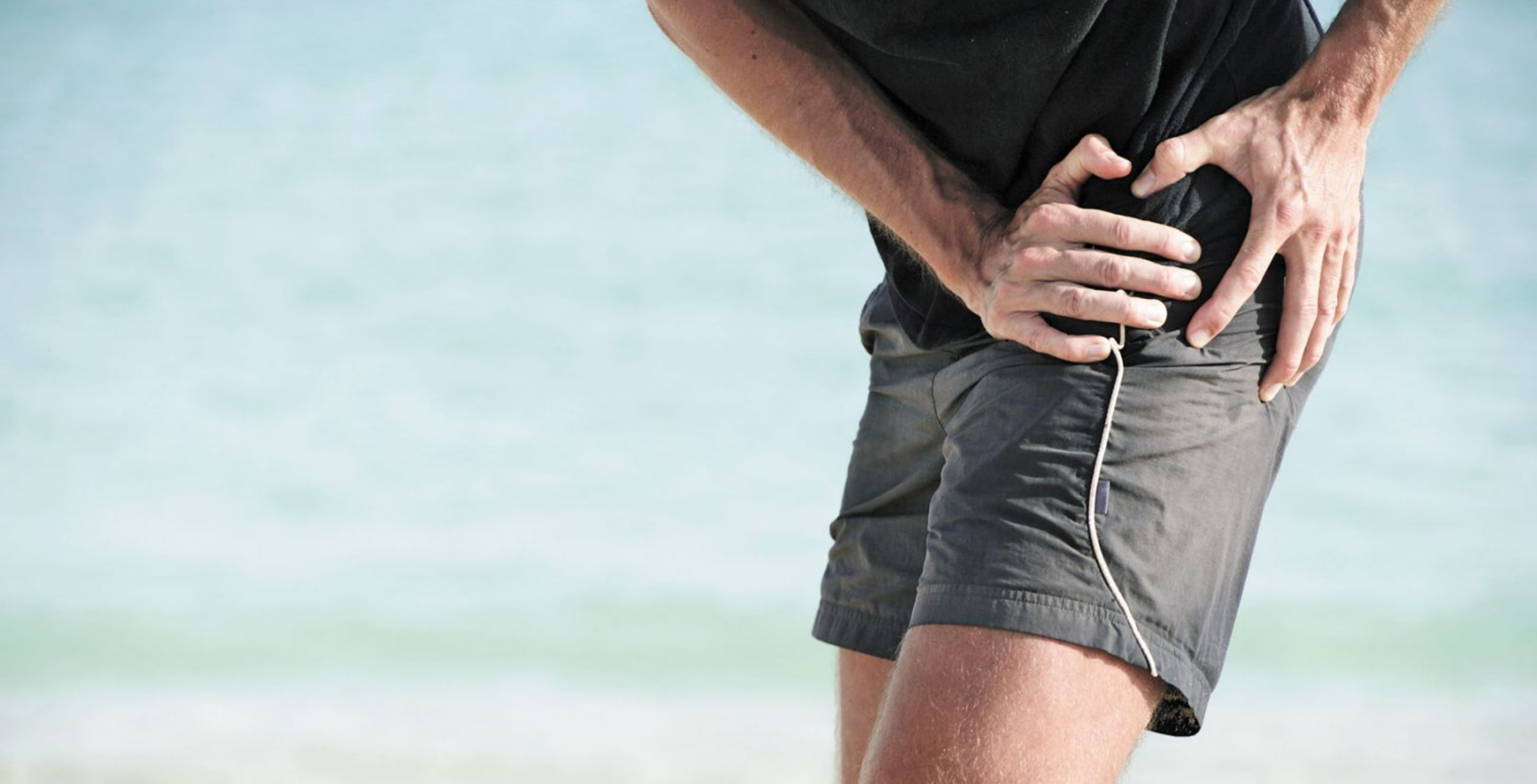 I have been dealing with sciatic nerve pain that was traveling all the way down my left leg. My daughter recommended seeing Dimitry for a consultation. The consultation was very thorough. He let me explain everything that was going on and then devised a plan of action and said, "I can fix you!"
Within 3 days of performing Dimitry's exercises, I could feel a difference. And now, not quite a week later, there has been a vast improvement in my condition. There is no way I can say enough positive things about Dimitry. This man has a healing gift. I cannot recommend him highly enough. He deserves more than 5 stars. THANK YOU, DIMITRY!!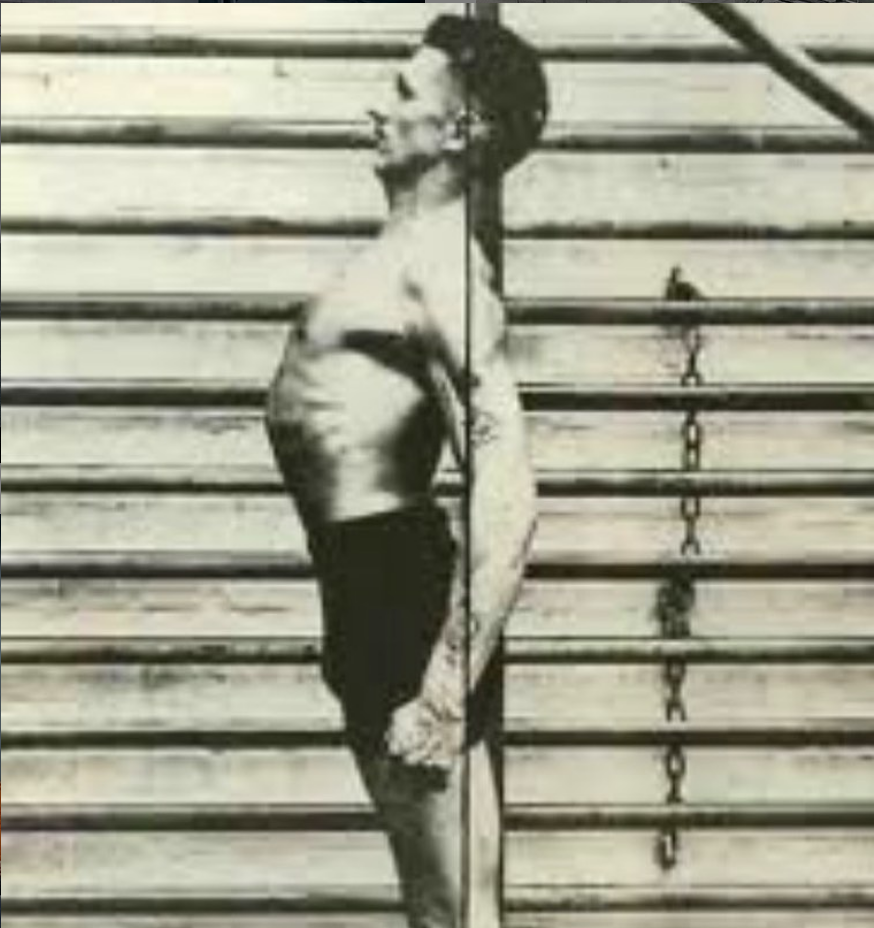 Chest out & Shoulder Back! Some of our clients tell us that this is what they were told as a strategy for good standing posture. The main problem is that they were told this 30-40 years ago. Yet I still have clients come in & stand exactly like that day in and day out🙄
Chances are there are better cues for good standing posture in 2019 – better than this guy! Note how most of his body is in front of the plum line. That means that he has a forward weight shift. That places excessive strain/load through the toes, meaning that his toe flexors, calves, quads and back muscles are going to have to work much harder to keep him upright.
This creates an excessive lumbar curve and that has many implications, the biggest of which is down-regulating abdominal tension, increased compression of the lumbar spine, increased tone of the back muscles & restricted ability to breathe (specifically exhalation!) That creates a necessity to flare the anterior rib-cage which leads to apical breathing patterns and excessive engagement of neck muscles – cue neck pain 😭!
Ideally the plum line should split this guy in 1/2 (front to back.) Then his center of mass is exactly that – centered. That means his abs and glutei are on & his calves/quads & back muscles are not overloaded when standing. Ribs are down allowing him to exhale better 💨 – which allow him to inhale better into the posterior thorax! 💥 Easier said than done.
But we do that here at Total-PT! Better yet, we find out the reasons for why people default to standing this way & give them really great software upgrades. So it's very 2019! #movehealchange

Dimitry is hands down amazing. My back went out in 2012 while I was teaching one of my cardio classes at the gym. I could barely move. An MRI showed a bulged disc. The Dr just gave me a bunch of muscle relaxers that did not fix the problem. I had foot drop on my left side and lost a lot of strength in that leg.
Dimitry was recommended by friends and in one session after an evaluation, some muscle palpation, and prescribed exercises my body was more in balance and I was feeling much better. In one week I had 90% of the strength back in my left leg.
To this day if my back feels a little funny I do Dimitry's homework and I'm right back to normal.
I recently sent my father to him for lower back pain as well and he is thrilled, feeling much better, and calling Dimitry a miracle worker.

My experience: Incredible knowledge of what creates back pain from a root cause point of view and how to address that. Most modern techniques I have experienced as a long term back pain sufferer. The key is determination and education of how to take control rather than typical PT techniques where you are manipulated for temporary relief. Thanks Dimitry. I am forever grateful!