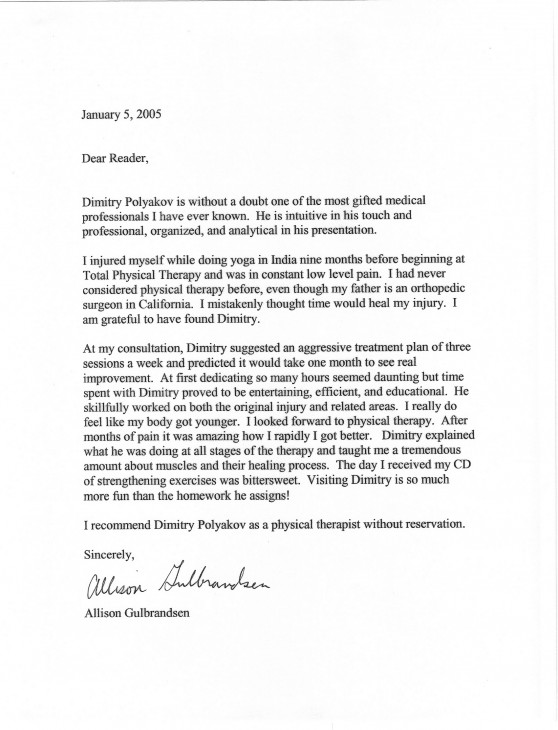 January 5, 2005
Dimitry Polyakov is without a doubt on of the most gifted medical professionals I have ever known.  He is intuitive in his touch and professional, organized and analytical in his presentation.
I injured myself while doing yoga in India nine months before beginning at Total Physical Therapy and was in constant low level pain.  I had never considered physical therapy before, even though my father is an orthopedic surgeon California.  I mistakenly thought time would heal my injury.  I am grateful to have found Dimitry.
At my consultation, Dimitry suggested an aggressive treatment plan three sessions a week and predicted it would take one month to see real improvement.  At first dedicating so many hours seemed daunting but time spent with Dimitry proved to be entertaining, efficient, and educational.  He skillfully worked on both the original injury and related areas.  I really do feel like my body got younger.  I looked forward to physical therapy.  After months of pain it was amazing how rapidly I got better.  Dimitry explained what he was doing at all stages of the therapy and taught me a tremendous amount about muscles and their healing process. The day I received my CD of strengthening exercises was bittersweet.  Visiting Dimitry is so much more fun than the homework he assigns!
I recommend Dimitry Polyakov as a physical therapist without reservation.
Sincerely,
Allison Gulbrandsen