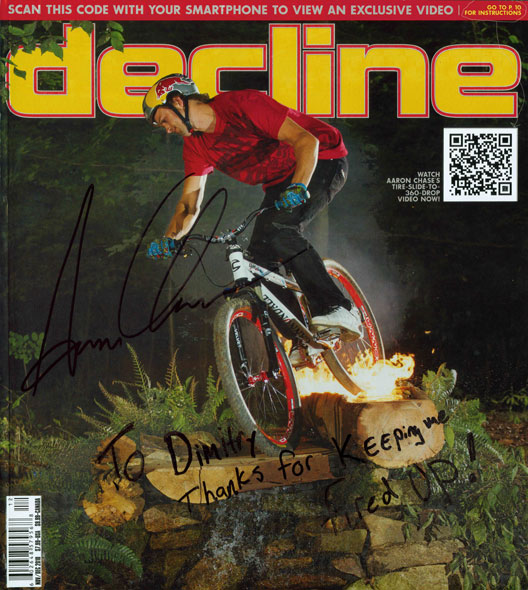 Although he's only in his early 30s, Aaron Chase has already been declared a "Legend of Mountain Biking." He's been on the cutting edge of the sport for over a decade, innovating not only the way people ride, but the way courses and bikes are built, as well as how MTB films are scripted and shot.
Since winning the dual urban freeride grails of Red Bull Bike Battle and Red Bull District Ride, "AC" has gone on to pioneer the all-terrain slopestyle movement that reclaims the creative spirit of mountain biking. And one look at his schedule – packed with film shoots, comps and coaching gigs – proves that when it comes to the legend of Aaron Chase, there's still a lot left to write.
A longtime collaborator on Freeride Entertainment's "New World Disorder" series, Aaron is also a popular director, editor and rider for Don Hampton's DH Productions, and recently starred in the company's 25th DVD adventure, "Here We Go Again."
One of Aaron's favorite projects, available for viewing at VitalMTB.com, is "H.O.L.T." – the "Hold On Loosely Tour," in which he and his buddies power up their motorcycles and tour a region, riding their mountain bikes in prime locations along the way. Fictional storylines are woven in to create an epic road-trip fantasy-reality. New England was the destination for the 2008 H.O.L.T. ride, and next up will be the wild landscape of Utah and perhaps even wilder backdrop of Las Vegas.
"I'm taking on anything that comes – I just can't say no," Aaron smiles. At home in New Jersey, he also finds it hard to say no to his two-year-old daughter Kendall, who, he claims, looks just like him and – judging from her fearlessness on the tree swing – may share his passion for catching air.
"The things I'm doing now are taking the sport to the next level," Aaron notes. "Slopestyle runs are using more big drops, hits, jumps and wall rides, which is better for spectators, video and magazines. It's something the average rider can look at and appreciate."
He adds, "Basically, my job is to think of something fun and make it happen – and I get to do that with the people I want to ride with. It doesn't get much better than that."
Aaron Chase profile link: http://www.redbull.com/cs/Satellite/en_INT/Profile/Aaron- Chase-021242746277230
Total Physical Therapy:  Elite Rehabilitation
Dimitry Polyakov PT, Cert. MDT.
I have many clients who come to me with one basic question.  What can you do for my pain that hasn't been tried already?  I will always answer their question with one of mine:  do you want me to get rid of your pain, or do we want to get rid of the root cause of your pain?  The quandary with the statement is that people think it is one and the same.    The true answer lies in making the proper diagnosis for your condition.  It is quite easy to get rid of lower back pain or shoulder pain or knee pain – for the moment.  What isn't easy is finding why the pain is there in the first place and getting rid of it once and for all.  Finding the irritants that are producing the ache and using reconstructive techniques to abolish them is the only way for complete recovery to occur.
The real questions are ones that I ask from the body:  what clues are you going to give me to find not some, but all of the reasons for the pain production that the client is feeling.  At Total Physical Therapy, I work with each client individually throughout the course of each session and use cutting edge manual as well as therapeutic exercise and lengthening techniques from both eastern and western medicinal roots to normalize and up-regulate joint and muscle pathology, disc and neurogenic dysfunction in addition to a plethora of other neuromusculoskeletal conditions.
The difference is simple – if the diagnosis is right, if the treatment is precise and accurately directed at abolishing the root cause of pain, then the condition will be permanently eliminated and will not return.  Client follow-through with a customized home exercise program via CD-ROM ensures proper compliance at home upon discharge.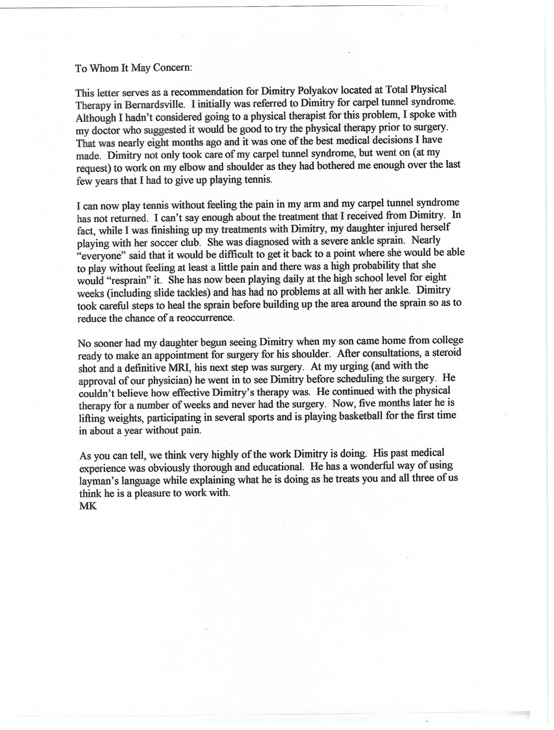 To Whom It May Concern:
This letter serves as a recommendation for Dimitry Polyakov located at Total Physical Therapy in Bernardsville. I initially was referred to Dimitry for carpal tunnel syndrome. Although I hadn't considered going to a physical therapist for this problem, I spoke with my doctor who suggested it would be good to try the physical therapy prior to surgery. That was nearly eight months ago and it was one of the best medical decisions I have made. Dimitry not only took care of my carpal tunnel syndrome, but went on (at my request) to work on my elbow and shoulder as they had bothered me enough over the last few years that I had to give up tennis.
I can now play tennis without feeling the pain in my arm and my carpal tunnel syndrome has not returned. I can't say enough about the treatment that I received from Dimitry. In fact, while I was finishing up my treatments with Dimitry, my daughter injured herself playing with her soccer club. She was diagnosed with a severe ankle sprain. Nearly "everyone" said that it would be difficult to get it back to a point where she would be able to play without feeling at least a little pain and there was a high probability that she would "resprain" it. She has now been playing daily at the high school level for eight weeks (including slide tackles) and has had no problems at all with her ankle. Dimitry took careful steps to heal the sprain before building up the area around the sprain so as to reduce the chance of reoccurrence.
No sooner had my daughter begun seeing Dimitry when my son came home from college ready to make an appointment for surgery for his shoulder. After consultations, a steroid shot and a definitive MRI, his next step was surgery. At my urging (and with the approval of our physician) he went in to see Dimitry before scheduling the surgery. He couldn't believe how effective Dimitry's therapy was. He continued with the physical therapy for a number of weeks and never had the surgery. Now, five months later he is lifting weights, participating in several sports, and is playing basketball for the first time in about a year without pain.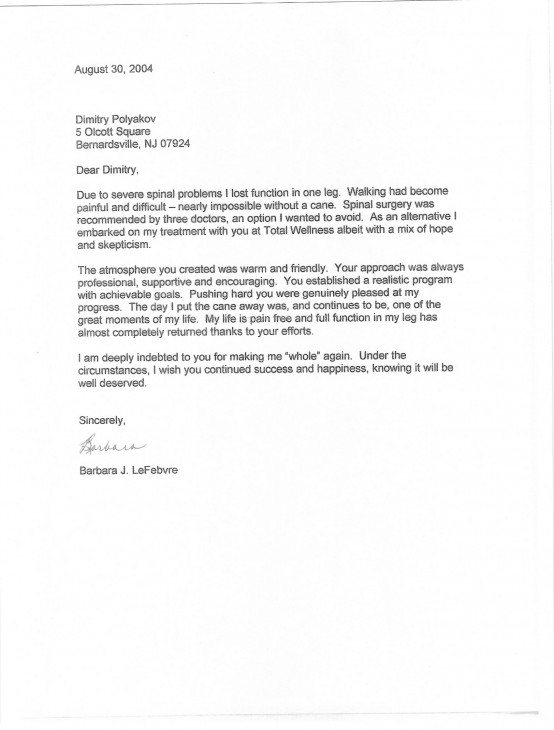 August 30, 2004
Dear Dimitry,
Due to severe spinal problems I lost function in one leg.  Walking had become painful and difficult – nearly impossible without a cane.  Spinal surgery was recommended by three doctors, an option I wanted to avoid.  As an alternative I embarked on my treatment with you at Total Wellness albeit with a mix of hope and skepticism.
The atmosphere you created was warm and friendly.  Your approach was always professional, supportive, and encouraging.  You established a realistic program with achievable goals.  Pushing hard you were genuinely pleased at my progress.  The day I put the cane away was, and continues to be, one of the great moments of my life.  My life is pain free and full function in my leg has almost completely returned thanks to your efforts.
I am deeply indebted to you for making me "whole" again.  Under circumstances, I wish you continued success and happiness, knowing it will be well deserved.
Sincerely,
Barbara J. LeFebvre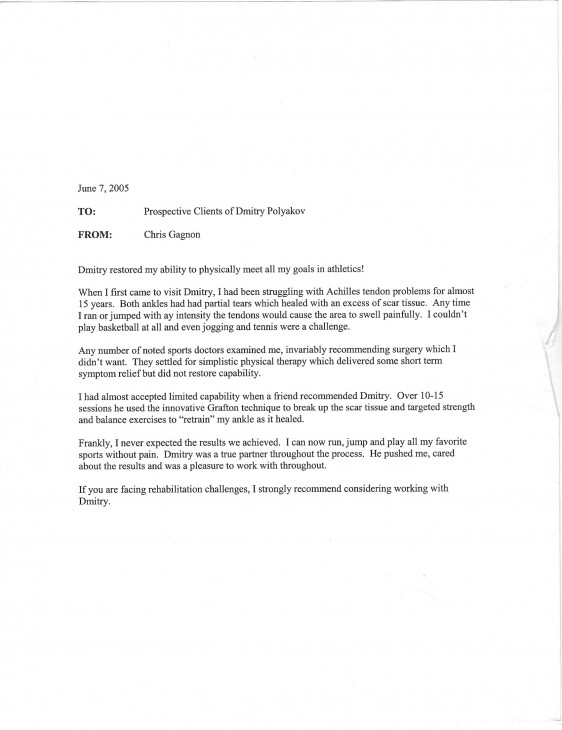 June, 2005
Dimitry restored my ability to physically meet all my goals in athletics!
When I first came to visit Dimitry,  I had been struggling with Achilles tendon problems for almost 15 years.  Both ankles had had partial tears which healed with an excess of scar tissue.  Any time I ran or jumped with any intensity the tendons would cause the area to swell painfully.  I couldn't play basketball at all and even jogging and tennis were a challenge.
Any number of noted sports doctors examined me, invariably recommending surgery which I didn't want.  They settled for simplistic physical therapy which delivered some short term symptom relief but did not restore capability.
I had almost accepted limited capability when a fiend recommended Dimitry.   Over 10-15 sessions he used the innovative Graston technique to break up the scar tissue and targeted strength and balance exercises to "retrain" my ankle as it healed.
Frankly, I never expected the results we achieved.  I can now run, jump and play all my favorite sports without pain.  Dimitry was a true partner throughout the process.  He pushed me, cared about the results and was a pleasure to work with throughout.
If you are facing rehabilitation challenges, I strongly recommend considering working with Dimitry.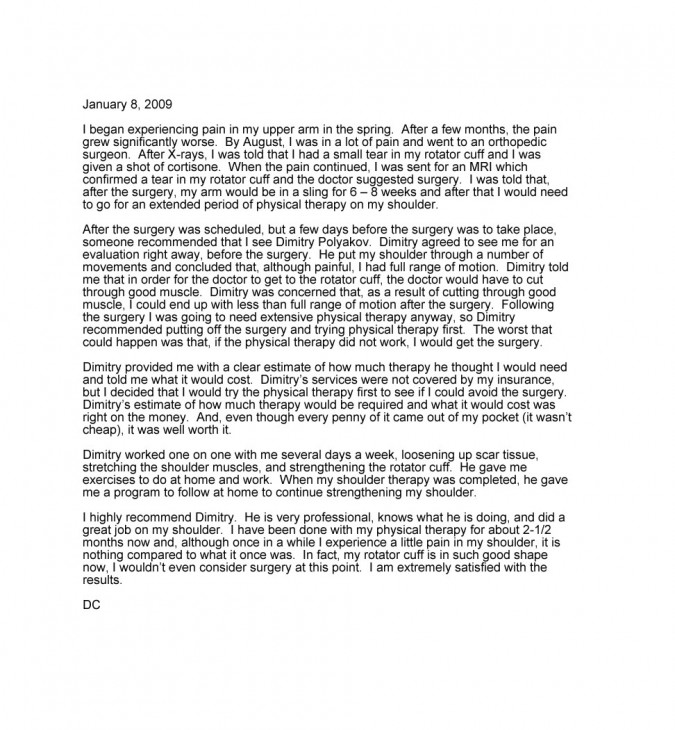 January 8, 2009
I began experiencing pain in my upper arm in the spring.  After a few months, the pain grew significantly worse.  By August, I was in a lot of pain and went to an orthopedic surgeon.  After X-rays, I was told that I had a small tear in my rotator cuff and I was given a shot of cortisone.  When the pain continued, I was sent for an MRI which confirmed a tear in my rotator cuff and the doctor suggested surgery.  I was told that, after the surgery, my arm would be in a sling for 6 – 8 weeks and after that I would need to go for an extended period of physical therapy on my shoulder.
After the surgery was scheduled, but a few days before the surgery was to take place, someone recommended that I see Dimitry Polyakov.  Dimitry agreed to see me for an evaluation right away, before the surgery.  He put my shoulder through a number of movements and concluded that, although painful, I had full range of motion.  Dimitry told me that in order for the doctor to get to the rotator cuff, the doctor would have to cut through good muscle.  Dimitry was concerned that, as a result of cutting through good muscle, I could end up with less than full range of motion after the surgery.  Following the surgery I was going to need extensive physical therapy anyway, so Dimitry recommended putting off the surgery and trying physical therapy first.  The worst that could happen was that, if the physical therapy did not work, I would get the surgery.
Dimitry provided me with a clear estimate of how much therapy he thought I would need and told me what it would cost.  Dimitry's services were not covered by my insurance, but I decided that I would try the physical therapy first to see if I could avoid the surgery.  Dimitry's estimate of how much therapy would be required and what it would cost was right on the money.  And, even though every penny of it came out of my pocket (it wasn't cheap), it was well worth it.
Dimitry worked one on one with me several days a week, loosening up scar tissue, stretching the shoulder muscles, and strengthening the rotator cuff.  He gave me exercises to do at home and work.  When my shoulder therapy was completed, he gave me a program to follow at home to continue strengthening my shoulder.
I highly recommend Dimitry.  He is very professional, knows what he is doing, and did a great job on my shoulder.  I have been done with my physical therapy for about 2-1/2 months now and, although once in a while I experience a little pain in my shoulder, it is nothing compared to what it once was.  In fact, my rotator cuff is in such good shape now, I wouldn't even consider surgery at this point.  I am extremely satisfied with the results.
DC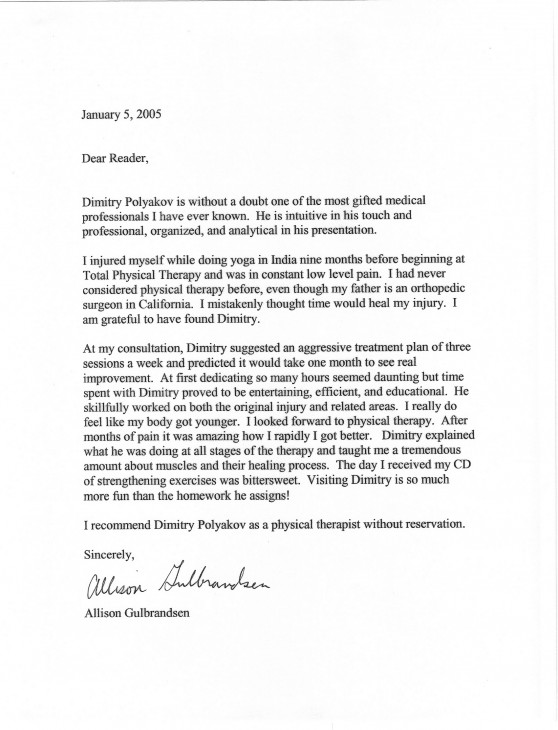 January 5, 2005
Dimitry Polyakov is without a doubt on of the most gifted medical professionals I have ever known.  He is intuitive in his touch and professional, organized and analytical in his presentation.
I injured myself while doing yoga in India nine months before beginning at Total Physical Therapy and was in constant low level pain.  I had never considered physical therapy before, even though my father is an orthopedic surgeon California.  I mistakenly thought time would heal my injury.  I am grateful to have found Dimitry.
At my consultation, Dimitry suggested an aggressive treatment plan three sessions a week and predicted it would take one month to see real improvement.  At first dedicating so many hours seemed daunting but time spent with Dimitry proved to be entertaining, efficient, and educational.  He skillfully worked on both the original injury and related areas.  I really do feel like my body got younger.  I looked forward to physical therapy.  After months of pain it was amazing how rapidly I got better.  Dimitry explained what he was doing at all stages of the therapy and taught me a tremendous amount about muscles and their healing process. The day I received my CD of strengthening exercises was bittersweet.  Visiting Dimitry is so much more fun than the homework he assigns!
I recommend Dimitry Polyakov as a physical therapist without reservation.
Sincerely,
Allison Gulbrandsen