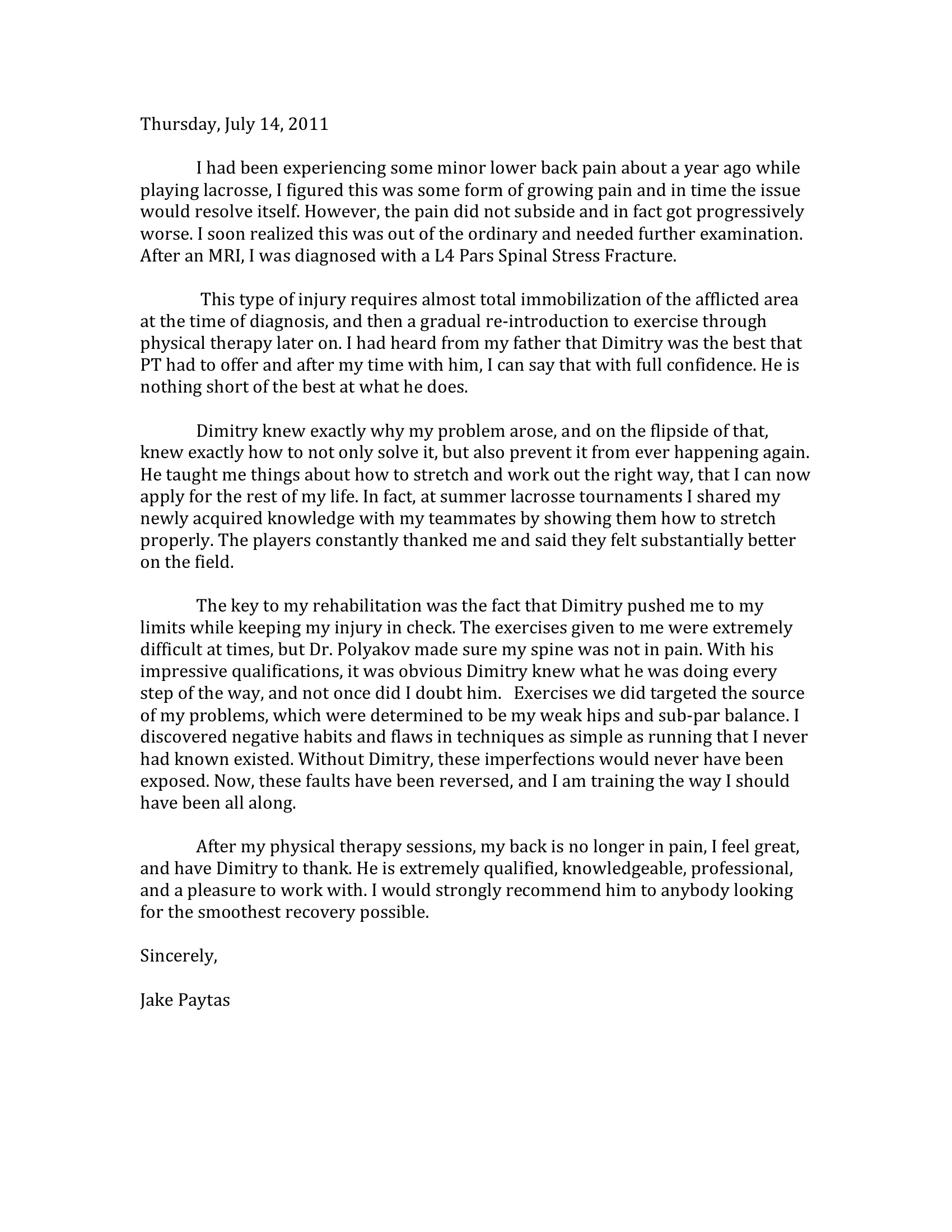 Thursday, July 14, 2011
I had been experiencing some minor lower back pain about a year ago while playing lacrosse, I figured this was some form of growing pain and in time the issue would resolve itself. However, the pain did not subside and in fact got progressively worse. I soon realized this was out of the ordinary and needed further examination. After an MRI, I was diagnosed with a L4 Pars Spinal Stress Fracture.
This type of injury requires almost total immobilization of the afflicted area at the time of diagnosis, and then a gradual re-introduction to exercise through physical therapy later on. I had heard from my father that Dimitry was the best that PT had to offer and after my time with him, I can say that with full confidence. He is nothing short of the best at what he does
Dimitry knew exactly why my problem arose, and on the flipside of that, knew exactly how to not only solve it, but also prevent it from ever happening again. He taught me things about how to stretch and work out the right way, that I can now apply for the rest of my life. In fact, at summer lacrosse tournaments I shared my newly acquired knowledge with my teammates by showing them how to stretch properly. The players constantly thanked me and said they felt substantially better on the field.
The key to my rehabilitation was the fact that Dimitry pushed me to my limits while keeping my injury in check. The exercises given to me were extremely difficult at times, but Dr. Polyakov made sure my spine was not in pain. With his impressive qualifications, it was obvious Dimitry knew what he was doing every step of the way, and not once did I doubt him.   Exercises we did targeted the source of my problems, which were determined to be my weak hips and sub-par balance. I discovered negative habits and flaws in techniques as simple as running that I never had known existed. Without Dimitry, these imperfections would never have been exposed. Now, these faults have been reversed, and I am training the way I should have been all along.
After my physical therapy sessions, my back is no longer in pain, I feel great, and have Dimitry to thank. He is extremely qualified, knowledgeable, professional, and a pleasure to work with. I would strongly recommend him to anybody looking for the smoothest recovery possible.
Sincerely,
Jake Paytas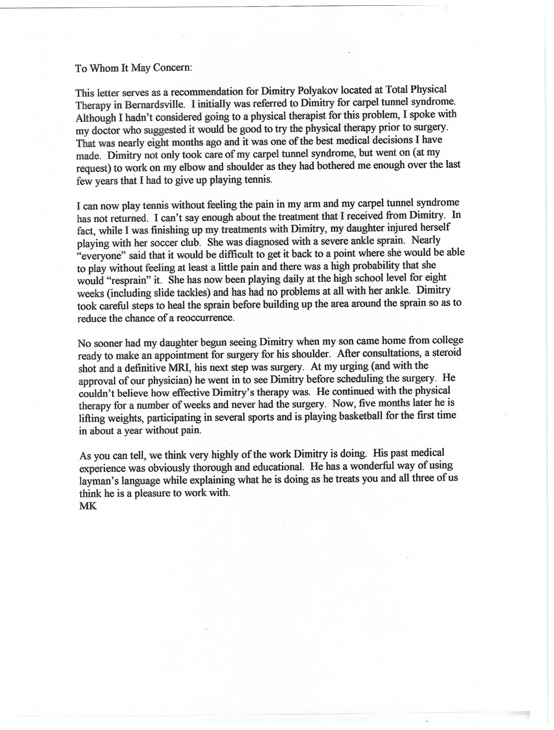 To Whom It May Concern:
This letter serves as a recommendation for Dimitry Polyakov located at Total Physical Therapy in Bernardsville. I initially was referred to Dimitry for carpal tunnel syndrome. Although I hadn't considered going to a physical therapist for this problem, I spoke with my doctor who suggested it would be good to try the physical therapy prior to surgery. That was nearly eight months ago and it was one of the best medical decisions I have made. Dimitry not only took care of my carpal tunnel syndrome, but went on (at my request) to work on my elbow and shoulder as they had bothered me enough over the last few years that I had to give up tennis.
I can now play tennis without feeling the pain in my arm and my carpal tunnel syndrome has not returned. I can't say enough about the treatment that I received from Dimitry. In fact, while I was finishing up my treatments with Dimitry, my daughter injured herself playing with her soccer club. She was diagnosed with a severe ankle sprain. Nearly "everyone" said that it would be difficult to get it back to a point where she would be able to play without feeling at least a little pain and there was a high probability that she would "resprain" it. She has now been playing daily at the high school level for eight weeks (including slide tackles) and has had no problems at all with her ankle. Dimitry took careful steps to heal the sprain before building up the area around the sprain so as to reduce the chance of reoccurrence.
No sooner had my daughter begun seeing Dimitry when my son came home from college ready to make an appointment for surgery for his shoulder. After consultations, a steroid shot and a definitive MRI, his next step was surgery. At my urging (and with the approval of our physician) he went in to see Dimitry before scheduling the surgery. He couldn't believe how effective Dimitry's therapy was. He continued with the physical therapy for a number of weeks and never had the surgery. Now, five months later he is lifting weights, participating in several sports, and is playing basketball for the first time in about a year without pain.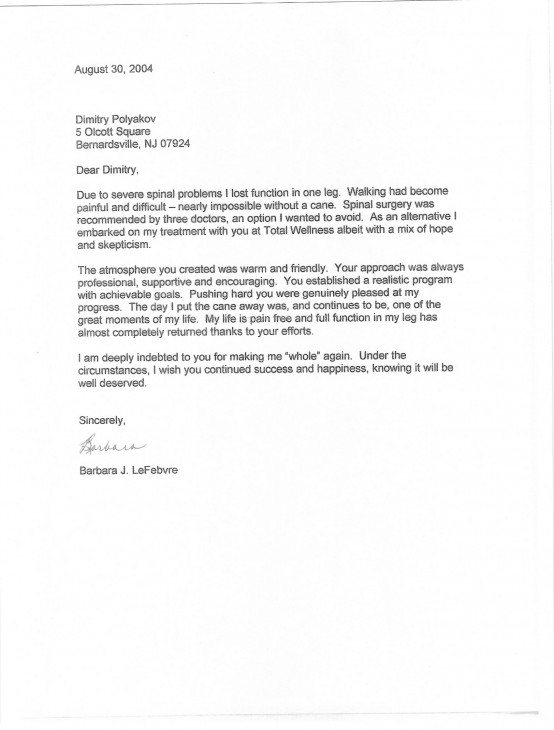 August 30, 2004
Dear Dimitry,
Due to severe spinal problems I lost function in one leg.  Walking had become painful and difficult – nearly impossible without a cane.  Spinal surgery was recommended by three doctors, an option I wanted to avoid.  As an alternative I embarked on my treatment with you at Total Wellness albeit with a mix of hope and skepticism.
The atmosphere you created was warm and friendly.  Your approach was always professional, supportive, and encouraging.  You established a realistic program with achievable goals.  Pushing hard you were genuinely pleased at my progress.  The day I put the cane away was, and continues to be, one of the great moments of my life.  My life is pain free and full function in my leg has almost completely returned thanks to your efforts.
I am deeply indebted to you for making me "whole" again.  Under circumstances, I wish you continued success and happiness, knowing it will be well deserved.
Sincerely,
Barbara J. LeFebvre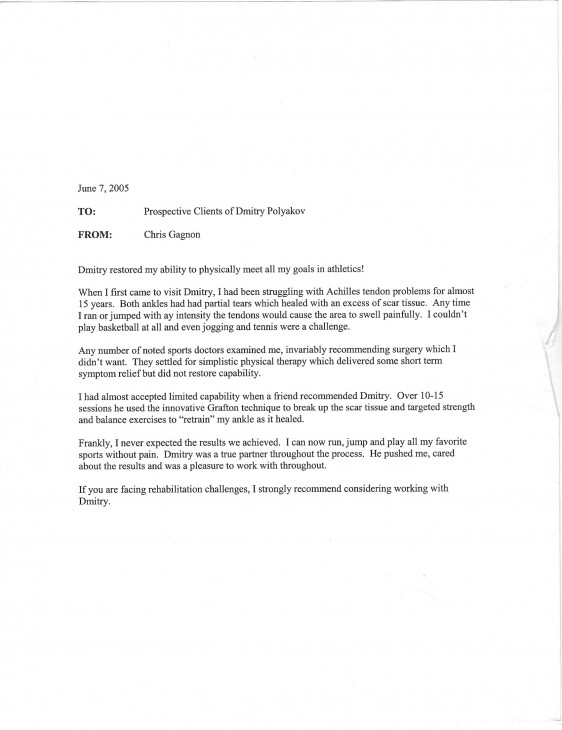 June, 2005
Dimitry restored my ability to physically meet all my goals in athletics!
When I first came to visit Dimitry,  I had been struggling with Achilles tendon problems for almost 15 years.  Both ankles had had partial tears which healed with an excess of scar tissue.  Any time I ran or jumped with any intensity the tendons would cause the area to swell painfully.  I couldn't play basketball at all and even jogging and tennis were a challenge.
Any number of noted sports doctors examined me, invariably recommending surgery which I didn't want.  They settled for simplistic physical therapy which delivered some short term symptom relief but did not restore capability.
I had almost accepted limited capability when a fiend recommended Dimitry.   Over 10-15 sessions he used the innovative Graston technique to break up the scar tissue and targeted strength and balance exercises to "retrain" my ankle as it healed.
Frankly, I never expected the results we achieved.  I can now run, jump and play all my favorite sports without pain.  Dimitry was a true partner throughout the process.  He pushed me, cared about the results and was a pleasure to work with throughout.
If you are facing rehabilitation challenges, I strongly recommend considering working with Dimitry.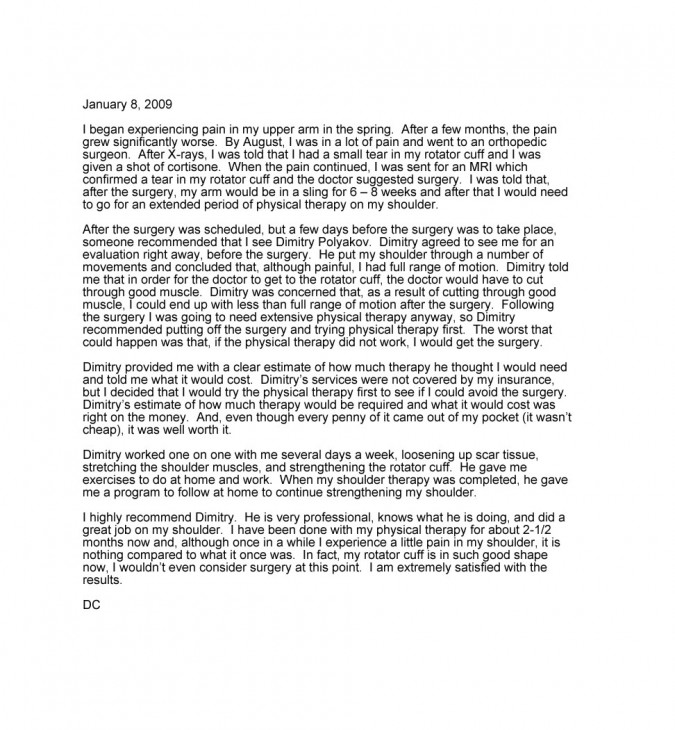 January 8, 2009
I began experiencing pain in my upper arm in the spring.  After a few months, the pain grew significantly worse.  By August, I was in a lot of pain and went to an orthopedic surgeon.  After X-rays, I was told that I had a small tear in my rotator cuff and I was given a shot of cortisone.  When the pain continued, I was sent for an MRI which confirmed a tear in my rotator cuff and the doctor suggested surgery.  I was told that, after the surgery, my arm would be in a sling for 6 – 8 weeks and after that I would need to go for an extended period of physical therapy on my shoulder.
After the surgery was scheduled, but a few days before the surgery was to take place, someone recommended that I see Dimitry Polyakov.  Dimitry agreed to see me for an evaluation right away, before the surgery.  He put my shoulder through a number of movements and concluded that, although painful, I had full range of motion.  Dimitry told me that in order for the doctor to get to the rotator cuff, the doctor would have to cut through good muscle.  Dimitry was concerned that, as a result of cutting through good muscle, I could end up with less than full range of motion after the surgery.  Following the surgery I was going to need extensive physical therapy anyway, so Dimitry recommended putting off the surgery and trying physical therapy first.  The worst that could happen was that, if the physical therapy did not work, I would get the surgery.
Dimitry provided me with a clear estimate of how much therapy he thought I would need and told me what it would cost.  Dimitry's services were not covered by my insurance, but I decided that I would try the physical therapy first to see if I could avoid the surgery.  Dimitry's estimate of how much therapy would be required and what it would cost was right on the money.  And, even though every penny of it came out of my pocket (it wasn't cheap), it was well worth it.
Dimitry worked one on one with me several days a week, loosening up scar tissue, stretching the shoulder muscles, and strengthening the rotator cuff.  He gave me exercises to do at home and work.  When my shoulder therapy was completed, he gave me a program to follow at home to continue strengthening my shoulder.
I highly recommend Dimitry.  He is very professional, knows what he is doing, and did a great job on my shoulder.  I have been done with my physical therapy for about 2-1/2 months now and, although once in a while I experience a little pain in my shoulder, it is nothing compared to what it once was.  In fact, my rotator cuff is in such good shape now, I wouldn't even consider surgery at this point.  I am extremely satisfied with the results.
DC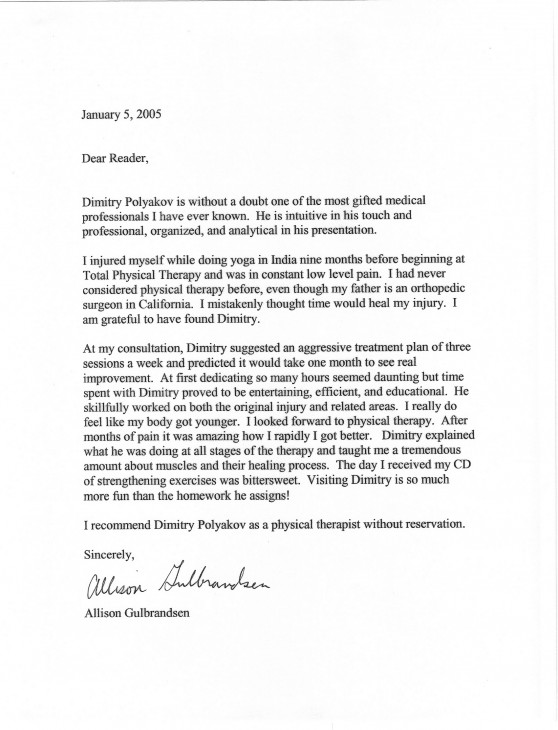 January 5, 2005
Dimitry Polyakov is without a doubt on of the most gifted medical professionals I have ever known.  He is intuitive in his touch and professional, organized and analytical in his presentation.
I injured myself while doing yoga in India nine months before beginning at Total Physical Therapy and was in constant low level pain.  I had never considered physical therapy before, even though my father is an orthopedic surgeon California.  I mistakenly thought time would heal my injury.  I am grateful to have found Dimitry.
At my consultation, Dimitry suggested an aggressive treatment plan three sessions a week and predicted it would take one month to see real improvement.  At first dedicating so many hours seemed daunting but time spent with Dimitry proved to be entertaining, efficient, and educational.  He skillfully worked on both the original injury and related areas.  I really do feel like my body got younger.  I looked forward to physical therapy.  After months of pain it was amazing how rapidly I got better.  Dimitry explained what he was doing at all stages of the therapy and taught me a tremendous amount about muscles and their healing process. The day I received my CD of strengthening exercises was bittersweet.  Visiting Dimitry is so much more fun than the homework he assigns!
I recommend Dimitry Polyakov as a physical therapist without reservation.
Sincerely,
Allison Gulbrandsen