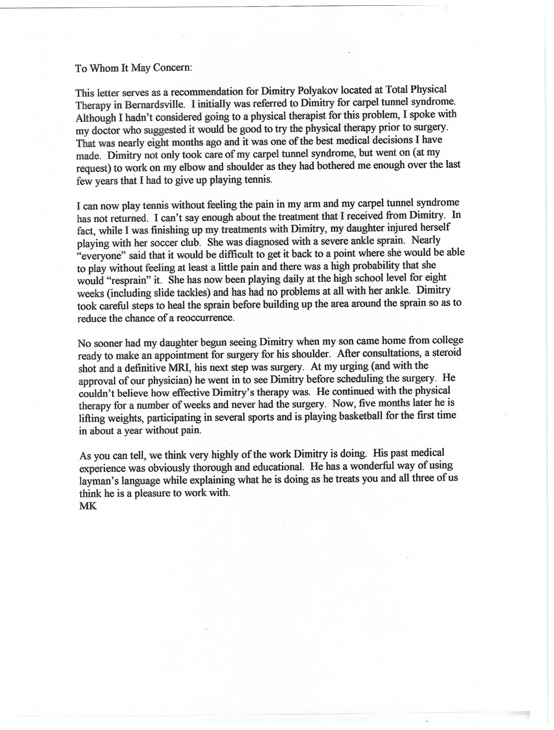 Mary – Bernardsville
To Whom It May Concern:
This letter serves as a recommendation for Dimitry Polyakov located at Total Physical Therapy in Bernardsville. I initially was referred to Dimitry for carpal tunnel syndrome. Although I hadn't considered going to a physical therapist for this problem, I spoke with my doctor who suggested it would be good to try the physical therapy prior to surgery. That was nearly eight months ago and it was one of the best medical decisions I have made. Dimitry not only took care of my carpal tunnel syndrome, but went on (at my request) to work on my elbow and shoulder as they had bothered me enough over the last few years that I had to give up tennis.
I can now play tennis without feeling the pain in my arm and my carpal tunnel syndrome has not returned. I can't say enough about the treatment that I received from Dimitry. In fact, while I was finishing up my treatments with Dimitry, my daughter injured herself playing with her soccer club. She was diagnosed with a severe ankle sprain. Nearly "everyone" said that it would be difficult to get it back to a point where she would be able to play without feeling at least a little pain and there was a high probability that she would "resprain" it. She has now been playing daily at the high school level for eight weeks (including slide tackles) and has had no problems at all with her ankle. Dimitry took careful steps to heal the sprain before building up the area around the sprain so as to reduce the chance of reoccurrence.
No sooner had my daughter begun seeing Dimitry when my son came home from college ready to make an appointment for surgery for his shoulder. After consultations, a steroid shot and a definitive MRI, his next step was surgery. At my urging (and with the approval of our physician) he went in to see Dimitry before scheduling the surgery. He couldn't believe how effective Dimitry's therapy was. He continued with the physical therapy for a number of weeks and never had the surgery. Now, five months later he is lifting weights, participating in several sports, and is playing basketball for the first time in about a year without pain.