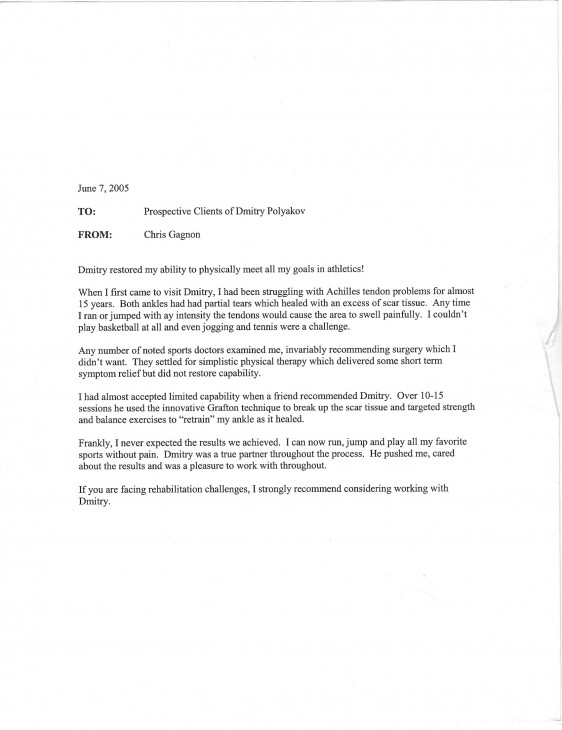 Chris Gagnon – Mendham
June, 2005
Dimitry restored my ability to physically meet all my goals in athletics!
When I first came to visit Dimitry,  I had been struggling with Achilles tendon problems for almost 15 years.  Both ankles had had partial tears which healed with an excess of scar tissue.  Any time I ran or jumped with any intensity the tendons would cause the area to swell painfully.  I couldn't play basketball at all and even jogging and tennis were a challenge.
Any number of noted sports doctors examined me, invariably recommending surgery which I didn't want.  They settled for simplistic physical therapy which delivered some short term symptom relief but did not restore capability.
I had almost accepted limited capability when a fiend recommended Dimitry.   Over 10-15 sessions he used the innovative Graston technique to break up the scar tissue and targeted strength and balance exercises to "retrain" my ankle as it healed.
Frankly, I never expected the results we achieved.  I can now run, jump and play all my favorite sports without pain.  Dimitry was a true partner throughout the process.  He pushed me, cared about the results and was a pleasure to work with throughout.
If you are facing rehabilitation challenges, I strongly recommend considering working with Dimitry.